Curvy clothing label debuts at Mercedes-Benz Fashion Festival
THE ONLY plus-size label to feature on the runway at the 2017 Mercedes-Benz Fashion Festival in Brisbane, Platinum Plus, is poised for a paradigm shift in how Australian fashion caters to women of all body types.
The label's founder and designer, Angela Rose has been accustomed to breaking boundaries from a young age.
From struggling to fit clothes for her age and gender in a small, rural town, to overcoming immense personal battles including the loss of both her father and her marriage, Ms Rose turned her misery into perseverance and gained the courage to realise her dreams, forging Platinum Plus into a creative business reality.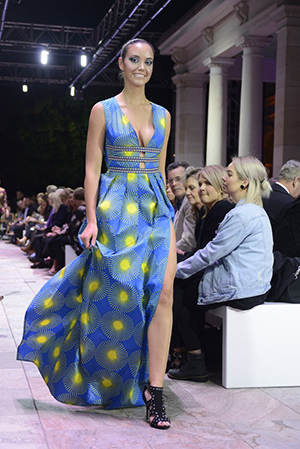 Inspired by a love for fashion, and a desire to make women of all sizes feel beautiful, she created a range of samples for herself and friends. They were a resounding hit – and Platinum Plus was born.
Countless hours, endless late nights and unexpected costs later, Ms Rose's first ever line, the 2017 Spring/Summer collection, was picked up by the Mercedes Benz Fashion Week in late August.
It was also featured at the Sunshine Coast Women's Lifestyle Expo in early September.
Platinum Plus will exhibit at RAW Brisbane on November 16 and Ultimate Women's Weekend Lifestyle and Wellbeing Expo in 2018.
For Angela Rose, her line represents everything that 'traditional' plus size clothing does not – bright colours, daring cuts and, most importantly, personality.
"Much of the line was made using dreamy Ankara fabric, which we use to keep women comfortable throughout the day and night," Ms Rose said. "The 100 percent cotton fabric is tightly woven and hugs and drapes every womanly curve."
The collection, which includes dresses, skirts, tops, shorts and pants, features figure-flattering waistlines which make the garments completely wearable in all situations, she said, "from the boardroom to the bar and everywhere in between".
"Whether it's a job interview or date night, Platinum Plus has women feeling fabulous and perfectly themselves," Ms Rose said.
Platinum Plus' Spring/Summer line is available in sizes 14-28, and by request in sizes 8-12.
Platinum Plus is using the fashion events for promotion and a range of online stores for distribution, as well as its own website.
ends