Squared up to represent Australian creative industries
BRISBANE-based start-up Creatively Squared won this year's Creative3 Pitch competition – claiming Australia's Creative Business Cup – presented at the opening of the recent Creative3 Conference.
Founders Ruth Stephensen and Scott Thomas took out the top prize for their custom visual digital marketing platform that pairs creatives with brands looking for more engaging content.
Hosted by QUT Creative Enterprise Australia (CEA), Creatively Squared will now go on to represent Australia as part of the Creative Business Cup challenge in Denmark in November, as well as take part in the Virgin StartUp accelerator program, StepUp.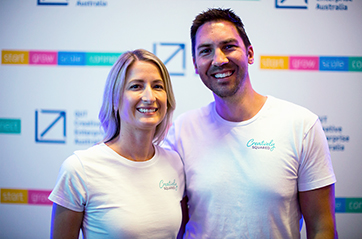 "We're so excited to have won the Creative3 Pitch today," Creatively Squared co-founder and chief creative officer, Ruth Stephensen said.
"We've built our platform to be global from day one, so to be able to share our vision on the world stage at the Creative Business Cup is a great opportunity for us.
"We're so thankful that CEA gives creative businesses like us the opportunity to challenge ourselves and present our businesses at this level. It's really positive to see the creative industries in Australia continue to diversify and grow."
The Creative3 Pitch breakfast kicked off the beginning of the Creative3 Conference at the Brisbane Convention Centre on September 22.
Creative3 is Australia's only conference for creative tech start-ups. The conference gives start-up founders the opportunity to hear from international and national speakers, as well as experts within the industry, including SOSV managing director William Bao Bean and Annie Parker from Fishburners and Code Club Australia.
"We're really pleased with the calibre of talent presenting at the Creative3 Pitch this morning," QUT Creative Enterprise Australia acting CEO Mark Gustowski.
"Starting a company from scratch and working it to scale is challenge enough in itself, let alone presenting that company to a room full of potential investors and experts in your industry.
"We're really proud to be able to offer up Creatively Squared as the Australian representative for the Creative Business Cup, and look forward to being able to follow their growth in the years to come."
Other finalists for the Creative3 Conference were start-ups Pluss, Postie and Folktale.
ends