Creative industries can 'robot-proof' future jobs
CAN YOU protect your job from going to a robot or automated system? You most likely can if you are in the creative industries, according to QUT Professor Stuart Cunningham.
He can show that as the workforce becomes increasingly automated, jobs requiring creative and emotional intelligence will be the most robot-proof.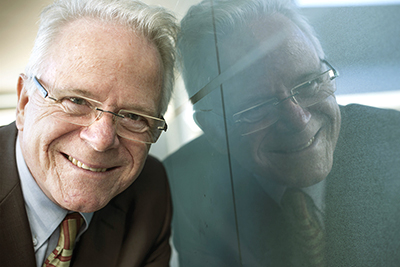 "Parents once worried about what use an arts degree was for their kids," Prof. Cunningham said. "Now the digital creative economy is a growth area for Australia and the rest of the world. Even the usually staid Australian Bureau of Statistics claims culture is big business.
"In what some are terming a 'rise of the machines' era, a degree in one of the creative industries is an intelligent choice. Creative services like design, social media management and digital content have experienced much faster employment growth than the broader workforce.
"Yet the arts appear to be under siege, with the Federal Government hardly bothering to issue an arts policy at the recent election, and only minor tweaks to the dramatic downsizing of the budget of the Australia Council."
QUT is going the other way, he said, "pinning its colours to the mast" with the unveiling of an $88 million second stage of its Creative Industries Precinct on August 28.
"QUT has taken a leadership role in modernising arts and humanities education, creating the world's first Creative Industries Faculty in 2001, followed by a major investment in an innovative creative industries precinct in 2004 combining education, research and development, creative business enterprise development, and performance venue.
"Economics strategist Andrew Charlton from AlphaBeta has been collecting online statistics and was recently quoted on his analysis of 4.2 million job advertisements in the past three years. He found a 212 percent increase in jobs demanding digital literacy, a 158 percent rise in jobs demanding critical thinking and a 65 percent rise in jobs demanding creativity," Prof. Cunningham said.
"Many unskilled and repetitive jobs are under threat, as are some in the engineering, accountancy and science disciplines. However jobs that require the human touch – creative and emotional intelligence – are much less vulnerable.
"Being so resilient in the face of automation they will be the jobs that will grow over the next 20-plus years."
Prof. Cunningham said the Creative Industries Innovation Centre report, Valuing Australia's Creative Industries – 2013, stated the total revenue generated from the creative economy in Australia each year amounts to $91 billion.
"Employment in creative industries has been growing much faster than the Australian economy as a whole," he said. "At this stage the total creative workforce amounts to more than 600,000 people with industry growth driven by the digital revolution and demand for digital and design services across the whole economy.
"And we look forward to seeing what August's Census will tell us about creative activity in Australia.
"Australia mirrors an international trend. In December 2015 the International Confederation of Societies of Authors and Composers released a study concluding the global cultural and creative industries revenue amounted to $US2,250 billion – three percent of the world's GDP.
"It also reported that, globally, the cultural and creative industries sector accounted for 29.5 million jobs, which is more than the combined jobs of the automotive industry in Europe, Japan, and US."
Prof. Cunningham said the British Government recognised the value of creative industries when it started branding 'Cool Brittania' in the late 1990s and QUT was quick to follow in linking the arts to the broader economy.
"From the jobs of the future perspective we continue to push ahead," Prof Cunningham said. "In 2012, for example, QUT brought its design and architecture disciplines from science and engineering into the Creative Industries faculty.
"It's all about fashioning synergies between the disciplines," he said.
The expansion of QUT's Creative Industries Precinct makes it the most sophisticated and technically advanced creative education space in Australia, he said.
The centrepiece of the new development is a six-storey building accommodating QUT's dance, drama, music, visual art, creative writing and animation and research programs.
It pulses with a state-of-the-art digital backbone and its design principles celebrate transparency, connectivity and a transdisciplinary approach.
The space was publically opened during the CreateX Festival on Sunday, August 28.
Billed as a collision of creativity and technology, CreateX offered a day of dazzling interactive performances and events, immersive games, workshops, films, robotics displays, talks, panels and more.
#QUTcreatex
ends