Bold Mentor LA program to boost careers
SCREEN Australia and Australians in Film have launched their inaugural Mentor LA film industry career development program with the help of Hollywood-based mentors Bruna Papandrea, Stuart Beattie, Deborah Riley and Eden Gaha.
Mentor LA matches four early-to-mid-level practitioners who currently work in the Australian industry with the dedicated mentors, giving them the opportunity to gain international industry knowledge from people who have excelled in their field.
The inaugural mentors list is exceptional: producer Bruna Papandrea (Gone Girl, Wild); writer/director Stuart Beattie (Pirates of the Caribbean: Curse of the Black Pearl, Collateral); Emmy award-winning production designer Deborah Riley(Game of Thrones); and the president of unscripted television at Endemol Shine USA, Eden Gaha, who has been named one of the most influential unscripted executives by Variety.
The pairs will be matched for a 12 month structured program specific to their area of work, allowing the mentees to continue to develop their careers in Australia and build on their existing knowledge with their mentor.
Over the year, the mentors and mentees will meet on four occasions – three times online and once in person during a week of meetings in Los Angeles at the culmination of the program.

"AiF is in the perfect position to connect the Australian industry with the international market," AiF president Simonne Overend said.
"Supported by Screen Australia, Mentor LA was created in the spirit of helping and supporting the next generation of Australian talent. It is all about investing information, ideas and experience back into the Australian market to make it more robust."

Screen Australia's head of business and audience Richard Harris said: "Mentor LA is a fantastic opportunity for up-and-coming talent to be guided by some of the most experienced and successful Australians in the industry. Working with these mentors is an invaluable experience, and we look forward to following the trajectory of the successful mentees and seeing the impact of the very first Mentor LA program."

The successful mentees will be selected based on their work experience, career trajectory in their chosen field, and their statement of purpose and goals.  The mentees must reside in Australia and have professional experience in a field of endeavour that is shared with a mentor. AiF will manage and coordinate the program and applications.
The Mentors:

Born in South Australia, Bruna Papandrea launched production banner Pacific Standard with Reese Witherspoon in 2012. Since its launch, Pacific Standard has acquired and produced bestselling books into films, including Wild by Cheryl Strayed which starred Reese Witherspoon and was directed by Jean Marc Vallee, and Gone Girl by Gillian Flynn, which was directed by David Fincher. 

Pacific Standard is currently producing Big Little Lies starring Witherspoon, Nicole Kidman and Shailene Woodley for HBO. Papandrea also produced the Summit Entertainment box office hit Warm Bodies through her company Make Movies. Her producing credits also include Andrew Jarecki's All Good Things,Noam Murro's Smart People and Jonathan Teplitzky's Better than Sex.Papandrea was also the executive producer on the highly acclaimed Milk from director Gus Van Sant.

Stuart Beattie began his career writing screenplays for Australian independent films, including the hit family film, Joey and the much-admired romantic comedy, Kick. He branched into Hollywood with the Oscar-nominated Pirates of the Caribbean: Curse of the Black Pearl, which went on to become one of the most successful franchises in movie history. 

Then came the Michael Mann thriller, Collateral, which he wrote as a 'spec' script. The movie starred Tom Cruise and Jamie Foxx and became the highest grossing film Michael Mann ever directed. It was also nominated for two Oscars and won a host of other awards around the world.

A graduate from Queensland University and NIDA, Deborah Riley started her career as a set designer for The Matrix and later as assistant art director on Moulin Rouge. Riley was herself mentored by the production designer Brigitte Broch, for whom she worked as art director on Real Women Have Curves in Los Angeles and Alejandro González Iñárritu's 21 Grams in Tennessee and New Mexico. 

In 2013, she was employed as production designer on season four on HBO's epic medieval fantasy, Game of Thrones. Since then she has been awarded back-to-back Emmys and Art Directors Guild awards for her work on the show. She was invited to speak on Visual Storytelling at the Smithsonian Institute in 2015.

After starting his career as a presenter for Channel Nine in Australia, Eden Gaha is now president, Unscripted Television at Endemol Shine USA, one of world's largest producers of unscripted television.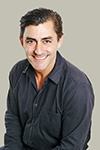 Edemol Shine USA produces some of the top unscripted series in the US, including MasterChef (FOX), MasterChef Junior (FOX), The Biggest Loser (NBC), Restaurant Startup (CNBC), Hunted (CBS) and Billion Dollar Buyer (CNBC). Gaha was recently named one of the most influential unscripted executives in Variety's Reality Impact special report. 
ends