Asia Pacific Screen Awards triumph in Brisbane
EXTRA >> BRISBANE has moved a step closer to becoming one of the world's recognised screen entertainment hubs, with the successful staging of the Asia Pacific Screen Awards (APSA) in late 2014.
The APSAs recognise and promote cinematic excellence in the world's fastest-growing film region, made up of 70 countries and regions, 4.5 billion people, and half of the world's film output. In 2014, 36 films from 21 Asia-Pacific countries and areas received APSA nominations. Over 250 films were considered in competition from 42 countries.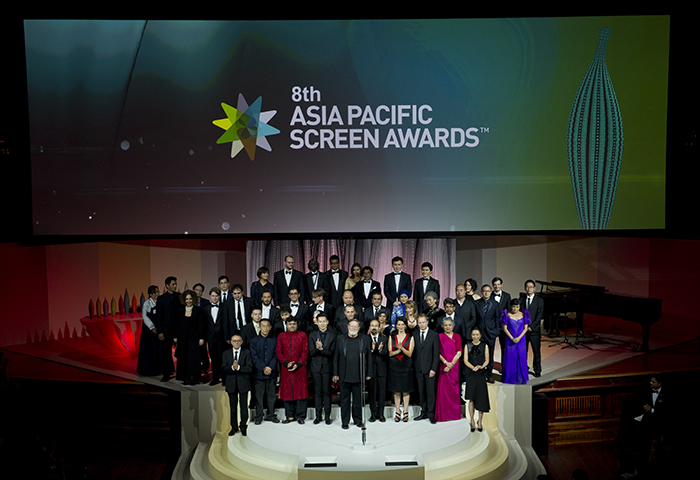 Russian film Leviathan won the APSA for Best Feature Film, the region's highest accolade in film, presented at the Brisbane City Hall-staged event. Leviathan was produced by Alexander Rodnyansky, Sergey Melkumov and co-produced by Marianna Sardarova.
The APSA for Achievement in Directing, for the third time in the history of the event, went to Turkish director Nuri Bilge Ceylan for his already Palme d'Or winning film Winter Sleep (Turkey, France and Germany). The award was accepted by producer Zeynep Özbatur Atakan.
The five feature craft awards were determined by the six member International Jury of Oscar-nominated and APSA-winning cinematographer Lu Yue; Palestinian actress, writer and director Hiam Abbass; award winning actor, producer and director Rajit Kapur: EFA representative Maciej Stuhr; award winning Singaporean filmmaker Anthony Chen; and Jury president the internationally renowned Iranian filmmaker, Asghar Farhadi.
Best Performance by an Actor went to New Zealand's Cliff Curtis for The Dark Horse. Iconic Australian actor David Gulpilil received a Special Mention for Charlie's Country.
Best Performance by an Actress was awarded to Lü Zhong for Red Amnesia (People's Republic of China). A Special Mention went to Iran's Merila Zareie for her role in Track 143.
APSA International Jury member Lu Yue presented the APSA for Achievement in Cinematography to winner Dong Jinsong for Black Coal, Thin Ice (People's Republic of China, Hong Kong).
From the Islamic Republic of Iran, Best Screenplay was awarded to Iranian Nima Javidi for his film Melbourne, starring APSA Academy members Payman Maadi and Negar Javaherian.
The UNESCO award for outstanding contribution to the promotion and preservation of cultural diversity through film was awarded to Shawkat Amin Korki for directing Memories on Stone (Iraqi Kurdistan, Germany).
The International Jury awarded two Jury Grand Prizes for 2014. The first to producers of Chinese film Blind Massage (PRC, France), Nai An, Li Ling, Kristina Larsen and Wang Yong. The second went to legendary Iranian filmmaker Rakhshan Banietemad for directing Tales (Islamic Republic of Iran).
Turkish writer/director Kaan Müjdeci was awarded Best Youth Feature Film for Sivas (Turkey, Germany), produced by Yasin Müjdeci, co-produced by Nesra Gürbüz and Çiğdem Mater.
Best Documentary Feature Film was awarded to 1001 Apples, produced, written and directed by Taha Karimi. Sadly, Taha Karimi passed away shortly after completing the film. The award was accepted in Brisbane by his brother, Hawre Karimi.
Best Animated Feature Film was won by The Tale of Princess Kaguya, produced by Yoshiaki Nishimura and directed by Isao Takahata. Following multiple nominations, this marks the first APSA win for a film from Japan's renowned Studio Ghibli.
The FIAPF Award for Outstanding Achievement in Film in the Asia Pacific region, won by Australian producer Emile Sherman, was presented by FIAPF representative Zeynep Özbatur Atakan, producer of the 2014 Cannes Palme d'Or winner Winter Sleep.
Iranian writer, producer and director Reza Dormishian is the 2014 recipient of the APSA Academy NETPAC Development Prize for his second feature film I'm Not Angry! An award for emerging talent, the US$10,000 prize, supported by the Griffith Film School, Griffith University, is awarded to a first or second-time filmmaker in the narrative feature competition.
"This evening's winners have displayed cinematic excellence through their films and they should be congratulated on their achievements," Brisbane Lord Mayor Graham Quirk said during the ceremony.
"The Asia Pacific Screen Awards are a unique testament to the vibrancy, diversity and divergence of the Asia Pacific region. This year's winners are from a total of nine different countries and areas of the vast Asia Pacific region.
"The awards enrich Brisbane's cultural relationship with our regional neighbours and strengthen our position in the Asia Pacific market."
APSA was presented by Treasury Casino and Hotel is supported by Brisbane City Council and managed by economic development board Brisbane Marketing in a unique collaboration with Paris-based UNESCO and FIAPF.
In 2011, the European Film Academy formed an academy alliance with APSA, acknowledging the pan regional works of both organisations. An EFA Academy member sits on the APSA International Jury each year.
www.asiapacificscreenacademy.com
APSA WINNERS 2014 – FULL LIST
BEST FEATURE FILM
Leviafan (Leviathan) Russian Federation
Produced by Alexander Rodnyansky and Sergey Melkumov Co-Produced by Marianna Sardarova
BEST YOUTH FEATURE FILM
Sivas Turkey, Germany Produced by Yasin Müjdeci
Co-Produced by Nesra Gürbüz and Çiğdem Mater
BEST DOCUMENTARY FEATURE FILM
Hezar-oyek Siv (1001 Apples) Iraq Produced by Taha Karimi
BEST ANIMATED FEATURE FILM
Kaguya-himeno Monogatari (The Tale of The Princess Kaguya) Japan Produced by Yoshiaki Nishimura
ACHIEVEMENT IN DIRECTING
Nuri Bilge Ceylan for Kiş Uykusu (Winter Sleep) Turkey, France, Germany
BEST SCREENPLAY
Nima Javidi for Melbourne Islamic Republic of Iran
ACHIEVEMENT IN CINEMATOGRAPHY
Dong Jinsong for Bai Ri Yan Huo (Black Coal, Thin Ice) People's Republic of China, Hong Kong (PRC)
BEST PERFORMANCE BY AN ACTOR
Cliff Curtis in The Dark Horse New Zealand
SPECIAL MENTION BEST PERFORMANCE BY AN ACTOR
David Gulpilil in Charlie's Country Australia
BEST PERFORMANCE BY AN ACTRESS
Lü Zhong in Chuangru Zhe (Red Amnesia) People's Republic of China
SPECIAL MENTION BEST PERFORMANCE BY AN ACTRESS
Merila Zareie in Shiar-E 143 (Track 143) Islamic Republic of Iran
UNESCO AWARD
Shawkat Amin Korki
for directing Bîranînên li ser kevirî (Memories on Stone) Iraqi Kurdistan, Germany
JURY GRAND PRIZE
Tui Na (Blind Massage)
Produced by Nai An, Li Ling, Kristina Larsen, Wang Yong People's Republic of China, France
JURY GRAND PRIZE
Rakhshan Banietemad for directing Ghesseha (Tales) Islamic Republic of Iran
FIAPF Award for Outstanding Achievement in Film in the Asia Pacific region
Emile Sherman (Australia)
APSA Academy NETPAC Development Prize
Reza Dormishian (Islamic Republic of Iran)
ends