Western Sydney Airport tallies a year in business
WESTERN Sydney Airport Company (WSA Co) has marked its first year in business, moving from a 'startup' phase and into infrastructure delivery.
The Australian Government established WSA Co just over a year ago, following through on its equity investment of $5.3 billion to build and operate Western Sydney Airport.
"This time last year, we established WSA Co with four board members charged with delivering one of the most significant transport infrastructure projects in Australia," Federal Urban Infrastructure and Cities Minister, Paul Fletcher said.
"The full board complement was appointed by November 2017, resulting in a board of seven with the right mix of skills and expertise to lead the delivery of Western Sydney Airport.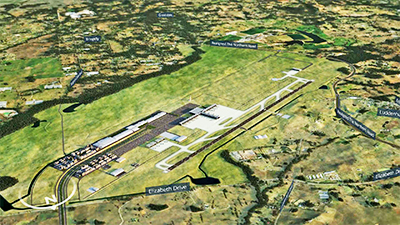 "WSA Co has since transitioned from start up to delivery. The company has established its base in central Liverpool and has its first critical project well underway – the nearly $100 million project to move an overhead high voltage cable is already well ahead of schedule.
"WSA Co has also awarded three major contracts, for early earthworks and multi-year contracts for delivery partners and project managers," he said. "WSA Co is also engaging local Western Sydney firms, for example in site security, site maintenance, and for site preparatory activities.
"The company is on track to commence early earthworks at the Western Sydney Airport before the end of the year. Early earthworks will support up to 300 jobs in Western Sydney."
Mr Fletcher said the Western Sydney Airport construction activity would support more than 11,000 direct and indirect jobs overall, "and WSA Co has also made a firm commitment to the people of Western Sydney, by setting strict local workforce targets".
"The Australian Government continues to work closely with WSA Co to ensure the company meets its regulatory obligations and the project stays on track for the airport to open in 2026," Mr Fletcher said.
Construction on Western Sydney Airport began on September 24.
Western Sydney Airport chief executive Graham Millett said it marked "both the end of a long journey and the start of an exciting new one".
"It's been talked about for decades, but now we're ending the speculation – Western Sydney Airport is coming," Mr Millett said.
QANTAS AND JETSTAR AGREE
QANTAS and Jetstar will operate from Western Sydney Airport. This follows the recent announcement that Virgin Australia intends to operate both Virgin and Tiger Airways flights from the new airport currently under construction.
The airport will have a 3.7km runway, capable of servicing the largest commercial aircraft such as the Airbus A380 and Boeing 747, and will have a high quality design reflecting the confidence and aspirations of Western Sydney, according to Urban Infrastructure Minister Paul Fletcher.
"Reports which confirm that both major domestic airlines will operate full service carriers from Western Sydney Airport is great news for Western Sydney," Mr Fletcher said.
"More than 2 million people live closer to Western Sydney Airport than the existing airport at Mascot, and being an international airport will ensure that the people of Western Sydney get access to the air services that they deserve."
ends
Federal Urban Infrastructure and Cities Minister, Paul Fletcher.