Battery World powers up Aussie Racing Cars
TWO UNIQUE Australian success stories, Aussie Racing Cars and Battery World, have joined forces. Battery World has become the naming rights partner of the Aussie Racing Cars Super Series.
In 2021 and beyond, the category will now be known as the Battery World Aussie Racing Cars Super Series.
The deal will also see Battery World take prominent branding on all of the 'pint-sized rockets' which make up the scaled-racecar Aussie Racing Cars field.
As part of the major partnership, Battery World's associated company, Yuasa, will become the official battery of the Super Series and all Aussie Racing Cars will now be fitted with a Yuasa high performance battery.
The deal has come about as Aussie Racing Cars gears up for its 22nd season with a new, modern logo that reflects the rise in popularity of the race series. Evolving from its modest beginnings at Oran Park, Sydney, Aussie Racing Cars has wowed millions of spectators and television viewers nationwide at Australia's biggest and best sporting events.
Appropriately, the 2021 calendar is jam-packed with marquee events, including a season-opener at the Mount Panorama 500 and a finale on the streets of the Gold Coast.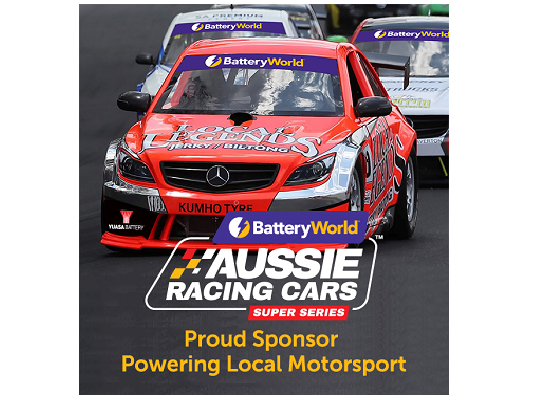 Category manager Brad Ward said he was thrilled with Aussie Racing Cars' new look and its new partner, Battery World.
"After a tough 2020 for everyone, we've put together one of our best calendars ever for 2021 and now, we have even more reason to celebrate the return of Aussie Racing Cars to tracks around the country," Mr Ward said.
"We are proud to welcome Battery World to the Aussie Racing Car Super Series as Naming Rights Partner and Yuasa as our official battery.
"As we also unveil a new, modern logo, it's only appropriate that the category which started 20-plus years ago from something small and has grown to be the nationwide success story that it is today teams up with Battery World, which has a similarly colourful and successful history, spanning over 20 years.
"In Mount Panorama, we couldn't have a better place to open the 2021 season, and in the Gold Coast, we couldn't have a better place for a finale.
"Everyone's itching to get back to a race track and there's no better time to watch or get involved in the Battery World Aussie Racing Cars Super Series."
Battery World general manager Johnny Kennedy said, "It makes commercial sense that Australia's largest battery retailer fits each of these iconic racing cars with only the best Yuasa batteries.
"This exciting partnership further cements Battery World's positioning as Australia's leading battery retailer." Mr Kennedy said. "With 2021 being an extremely successful year for Battery World, our 110 stores are extremely excited to see what this partnership will deliver to the business in 2021."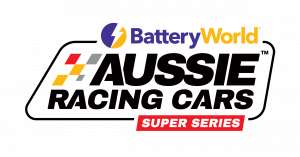 Aussie Racing Cars are pure-bred race cars designed and built in Australia. Their compact size enables thrilling four-wide braking, overtaking and quick acceleration on regular racetracks to speeds in excess of 200kmh. The cars are powered by 1.3 litre, 125bph, twin-cam, 16 valve engines that rev to 11500rpm. Despite the vehicles being about three quarters the size of a Supercar they produce extreme power and competitors say they are the most exhilarating race cars to drive -- and provide some of the world's most exciting racing to watch.
Round 1 of the 2021 Battery World Aussie Racing Cars Series supports Supercars at the Mount Panorama 500 on February 26-28.
2021 Battery World Aussie Racing Cars Series Calendar
| | | | |
| --- | --- | --- | --- |
| Round | Date | Circuit | Event |
| 1 | 26-28 Feb | Mount Panorama 500 | Supercars Championship |
| 2 | 10–11 Apr | Tasmania Supersprint | Supercars Championship |
| 3 | 1–2 May | Sydney Motorsport Park | Motorsport Australia Nationals |
| 4 | 25–27 Jun | Morgan Park Raceway | Motorsport Australia Nationals |
| 5 | 10–12 Sep | Sandown International Raceway | Motorsport Australia Nationals |
| 6 | 3–5 Dec | Gold Coast 600 | Supercars Championship |
ends