Drag racing champion Darren Morgan to rev-up crowds at Supercars launch
FOUR-time Australian Top Fuel Champion Darren Morgan will give V8 Supercars fans a taste of what his 10,000 horsepower Top Fuel Dragster can do at Adelaide 500 this weekend.
From Friday until Sunday, Morgan will showcase his vehicle in front of more than 250,000 spectators at Round 1 of the 2018 Virgin Australia Supercars Championship.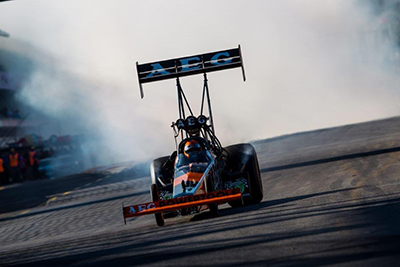 Morgan previously stunned crowds at Adelaide 500 in 2017 and 2011.
"It's excellent to have the chance to showcase our vehicle at another Supercars event, where we can continue to expand our fan base at all types of motorsport events," Morgan said.
"We are looking forward to converting new motorsport fans over to the powerful sport of drag racing.
"We are thankful for the continuous support of our marketing partners."
Morgan will fire up his Top Fuel Dragster various times over the weekend, as well as perform demonstration burnouts on the main straight on Friday at 1.45pm and Saturday at 12.30pm.
The Top Fuel Dragster will be on display from through to Sunday, with spectators given the chance to get up close to the vehicle.
ends