Ludowici revolutionary technology cleans coal, minerals
ATS 2007 ARCHIVE >> MINING equipment firm Ludowici is set to revolutionize the global mining industry with new technology for cleaning fine coal and minerals.
The innovative piece of equipment, known as the Reflux Classifier, uses gravity-based separation technology to clean coal and mineralsin an efficient and environmentally friendly process.
The new technology separates fine particles on the basis of density or size. The equipment is used in coal and minerals processing and combines three technologies: a Lamella Settler, an Autogenous Dense Medium Separator and a Fluidised Bed Separator.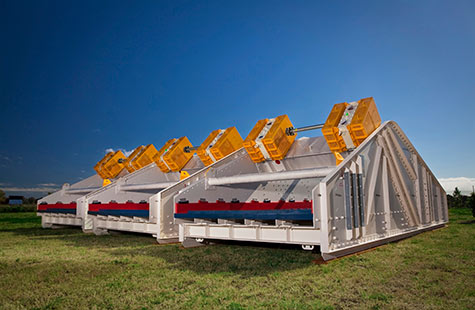 It comprises inclined lamella channels that deliver better hydraulics compared to conventional technologies. The Reflux Classifier is the perfect alternative to spiral technology as it uses an environmentally friendly process which reduces the carbon footprint up to six times.
Ludowici business product manager, Taavi Orupold said the latest Reflux Classifier research has been accepted and implemented into the industry within 12 months.
"It is rare for research outcomes to be accepted so quickly. This makes the Reflux Classifier somewhat of an icon of the industry," said Mr Orupold.
"The RC2020 Reflux Classifier can also provide an estimated 10 percent increase in recovery. With the current value of raw materials, pay-back time is often measured in weeks not years. In raw material processing, recovery and grade of product are fundamental to maximising profit, which is essential in today's market.
"Ludowici prides itself on the fact that RC technology does not rely on chemicals to modify surface properties, and that every effort is made to minimise harm to the environment as a result of mining activities."
Advancements in channel spacing and width ensures that Reflux Classifiers are more efficient and more compact than other fine coal and mineral cleaning equipment.
Ludowici's Reflux Classifiers offer enhanced functionality with features incorporating a new cone-shaped base for improving underflow, a round mixing section, additional wear-resistant lining as well as improved internal launder adjustment and instrumentation.
The RC2020 model has been enhanced for fine coal and minerals applications and comprises a more easily scalable design incorporating a new laminar high shear rate mechanism.
With its elegant smooth lines, Ludowici's RC2020 is a high capacity, compact unit requiring a small amount of floor space so it may be easily accommodated in any plant layout. It has been designed for easy transport, site assembly and installation. More importantly, the RC2020 is simple to operate, with only one operational control used.
The Reflux Classifier was developed through a joint venture with the University of Newcastle. Ludowici is the official licensor of this technology and no other company may promote or lay claim to the technology without their permission.
Ludowici was the recipient of the Ai Group's 2011 Icon of Industry award at the Queensland gala dinner. The Reflux Classifier was also recognised by the IChemE2010 Awards in the UK, winning the Core Chemical Engineering category for maximising resource efficiency.
The impressive RC2020 will be unveiled at this year's AIMEX at Sydney Olympic Park from September 6-9.
TEST DRIVE RC TECHNOLOGY
Ludowici's technology has already been proven with the RC300, a smaller model of the RC2020, which has been designed as a test drive for the new process.
The RC300 is used for in-plant test work in coal and minerals applications. It has the capacity of one spiral start and provides an excellent opportunity for engineers to observe how this technology is one of the more exciting developments in mineral processing.
Ludowici currently has RC300 Pilot units being used throughout Australia, North America, China, India and South Africa.
The RC300 model is an easily scalable unit designed to produce very similar results to the full size RC2020.
Ludowici was founded in Australia in 1858 and is a world leader in the design, manufacture and supply of high quality minerals processing and materials handling equipment. They deliver diversified manufacturing and engineering expertise to global blue-chip clients.
Ludowici's products are widely recognised for their outstanding quality and value and are backed by significant investments in research, development and service.
Ludowici is trusted in international markets and represents leading edge innovation for customers. Their vision is to build an international business by innovating forcustomers, sharing the knowledge of their people anddeveloping their own technology.
Ludowici's diverse suite of products and services is testimony to the company's reputation for innovation and continued dedication to manufacturing quality and service excellence.
From its head office in Brisbane, Ludowici's global footprint now includes wholly owned subsidiary companies in South Africa, Chile, Peru, USA, China, India and agents in other mining resource countries.
Ludowici was a member of the Australian Technology Showcase in 2007. Now known as FL Smidth Ludowici, the Brisbane-developed company is today part of the giant multi-national FL Smidth group.
* The Australian Technology Showcase (ATS) was a joint Federal and State Government 21st century technology incubation program that helped some of Australia's emerging companies to develop world-leading technologies. The ATS program was wound down during the 2008-2012 financial downturn. Business Acumen presents these stories from our archives as some of the former ATS member companies still have technologies that have yet to be properly commercialised ... and some of the ATS success stories may encourage the next generation of innovative and inventive Australian companies.
ends