Less pain and effort now it's Ezy-As
For many, the arduous task of donning compression stockings can be frustrating. This is especially true if the wearer is living independently, weakened by their recovery or condition, in pain or has restricted reach.
After undergoing a knee replacement and discovering other compression stocking applicators weren't suitable, Barry Hildebrandt and his son Barry Hildebrandt Jnr set out to design and manufacture a unique, easy-to-use aid that would be suitable for a range of people and applications.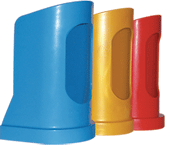 One year later Ezy-As ABC Pty Ltd released the Ezy-As applicator, a unique aid for applying compression stockings and garments. Its features include:
ability to work with a variety of open and closed toe compression stockings;
cross functionality between upper and lower limb applications;
significant reduction in stress and pain to the injury.
Ezy-As, with CE Mark accreditation, is now distributed around the world, meeting European and GS1 standards.
In May 2010, the Ezy-As applicator was approved for availability through the National Health Service (NHS) in the United Kingdom.
"The next step is tackling the Canadian market, with our biggest challenge finding the right distribution company to work with and overcoming the economic export challenges of a strong Australian dollar," Mr Hildebrandt said.
Since Ezy-As was released it has gained solid industry praise and awards.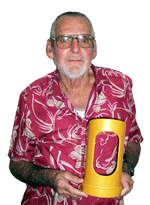 Ezy-As was judged 'Episode Winner' and won the 'People's Choice' award on the ABC's The New Inventors TV program.
Today, it is the users of Ezy-As who praise it the most, and health professionals who are familiar with the issues of compression therapy comment on the many beneficial outcomes for their clients.
Customers can look forward to the release of a new independent living aid in the near future as Mr Hildebrandt continues to look for new ways to support those living with injury or restriction of movement, wanting some independence to their lifestyle.
This simple, cost-effective innovation has been accredited to the Australian Technology Showcase.
Through this accreditation, Ezy-As ABC Pty Ltd can look forward to a range of support benefits as the company continues to grow.
To find out more about Ezy-As ABC contact Barry Hildebrandt on 07 4784 8083 or via This email address is being protected from spambots. You need JavaScript enabled to view it.
* The Australian Technology Showcase (ATS) was a joint Federal and State Government 21st century technology incubation program that helped some of Australia's emerging companies to develop world-leading technologies. The ATS program was wound down during the 2008-2012 financial downturn. Business Acumenpresents these stories from our archives as some of the former ATS member companies still have technologies that have yet to be properly commercialised ... and some of the ATS success stories may encourage the next generation of innovative and inventive Australian companies.
ends