SUBSCRIBER ONLY EXTENDED STORY VERSION
CAREFLIGHT Group Queensland is the latest aviation organisation drawn to the facilities on offer at Archerfield Airport.
The iconic not for profit organisation is one of the largest and most diversified community based air medical retrieval operations in the world. It has now shifted its considerable heavy maintenance operation from Coolangatta to the Brisbane based Archerfield airport, dramatically changing the way it maintains its fleet of 13 aircraft in the process.
In July this year, CareFlight amalgamated with the Sunshine Coast Helicopter Rescue Service and the newly merged organisation now covers a flight region that stretches across 24 councils and 3.7 million square kilometres.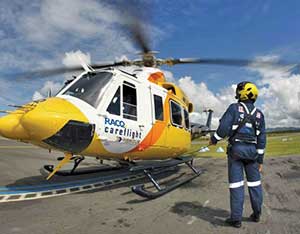 CareFlight Group Queensland now has an expanded fleet of 11 rescue helicopters and two air ambulance Lear jets. The organisation employs more than 400 staff across 14 locations, seven of which are CareFlight's own air medical bases.
CareFlight Group chairman of the newly established group, former Queensland Premier Rob Borbidge said the recent moves were powered by a mutual desire to improve patient outcomes and maximise the delivery of lifesaving services to Southern and Central Queenslanders.
"We use helicopters and medi-jets to bring a hospital level of care to the critically ill and injured," Mr Borbidge said.
"Our aircrew, medical teams and coordinators work closely together to ensure patients receive the best care as soon as possible. It's about bringing the right team to the right patient at the right time."
Mr Borbidge said Ashley van de Velde had been confirmed to lead this new entity as chief executive officer.
Currently, CareFlight aeromedical teams care for 1,500 patients a year – many of these suffering from motor vehicle accidents in remote and regional locations.
"CareFlight doctors and nurses are specially trained in pre-hospital and transport medicine. They care for severely injured patients who need emergency treatment at the scene of the incident. We also transport seriously ill patients who need to be moved between hospitals," Mr van de Velde said.
Archerfield Airport Corporation general manager, former RAAF Group Captain Corrie Metz said the airport was delighted CareFlight Group Queensland had based its heavy maintenance facility at Brisbane metropolitan airport.
"It's a very effective and efficient location for this important Queensland aerial rescue and medical evacuation service," Mr Metz said. "At Archerfield, CareFlight heavy maintenance also has access to some of the best general aviation facilities and maintenance companies in Australia.
"We are delighted to have the CareFlight team based here now."
CareFlight executive manager engineering, Peter Johnson agreed the new Archerfield location would be pivotal in changing the way the organisation maintains its fleet. 
"It enables us to use Archerfield as a central location for heavy maintenance, while still ensuring the rapid deployment of our skilled engineers to any of our seven bases located throughout Queensland, via a fixed wing support aircraft," Mr Johnson said.
The fleet includes six Bell 412s, two BK 117s, a Bell LongRanger, an AS 350 'Squirrel' and a Bell 230 along with two medically configured 45 and 45XR Learjets. They are utilised for the delivery of CareFlight's specialised air medical retrieval services for both RACQ CareFlight Rescue and CareFlight Group Queensland commercial operations.
The CareFlight fleet is maintained by an engineering department with 20 skilled and trained engineers, throughout Queensland, along with heavy maintenance operation now at Hangar 110 at Archerfield. The seven operational bases are supported by a technical services team of eight.
Heavy maintenance can include scheduled short term work, through to five year, 3,000 hour maintenance on the Bell 412 helicopters that can take at least two months.
First priority at Archerfield was two Bell 412 helicopters undergoing major inspections and overhaul work, undertaken by seven engineers.
The move to join 80 other businesses at the central Archerfield Airport also frees up CareFlight's Bilinga Base.
"Engineers were working out of the Gold Coast Base which is also where two of our RACQ CareFlight Rescue helicopters are situated," Mr Johnson said.
"Whilst this is pretty much where it all started, we have simply outgrown our original hangar and there wasn't the room.
"Now that we've moved it has freed up hangar space, not only for the rescue helicopters, but the air ambulance jet can now also share that same space, saving the organisation significant hangar costs."
CareFlight has big plans for the service of its fleet and the heavy maintenance operation at Archerfield is central to that process.
"Archerfield provides us with the base we need while still allowing us rapid access to our bases throughout Queensland when we need it," Mr Johnson said.
 ends