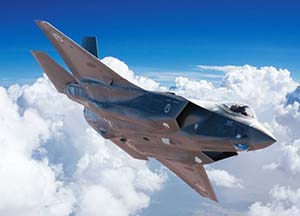 THE FIRST two Australian F-35 Joint Strike Fighters will be delivered in mid-2014, according to Lockheed Martin Aeronautics, and a further 100 remain on order. 
The 'initial operational capability' readiness date for the RAAF is expected to be some time in 2020.
One of the last actions taken by the previous Labor Government's Defence Department was to confirm its commitment to the F-35 Joint Strike Fighter – which gave a boost to its Australian component manufacturers.
"Along with the first two Australian jets in production, which will deliver in mid-2014, we will work closely with the government to support their purchase of their remaining 100 F-35 aircraft," F-35 international communications manager Laurie Tortorello said.
"Additionally, we will work with Australian industry supporting their participation in the production of components and sub-assemblies for the more than 3,000 F-35s to be built during the life of the program.
"The projected $5.5 billion of industrial participation will bring long term economic benefits to Australia for decades."
ends