G'DAY USA LOS ANGELES GALA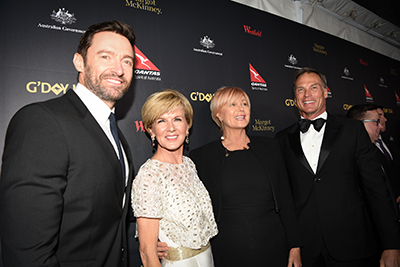 EVENT DESCRIPTION
The G'Day USA Los Angeles Gala is the pre-eminent business networking event for Australian and US companies seeking to increase their visibility and presence in our respective markets. The Gala offers an immersive Australian experience, showcasing Australian food, wine and entertainment, as well as exciting sponsor activations that promote the best of Australia in the US.
The 16th annual black-tie G'Day USA Gala in January 2019 will feature a star-studded celebrity red carpet, and celebrate several high-profile Australians who will be honoured for their contribution to strengthening the US-Australia relationship.
Legendary Australian singer Helen Reddy will be honored with a G'Day USA Lifetime Achievementaward. Best known for her signature hit I Am Woman, Reddy became a global pop icon and pioneer of the women's movement.
Acclaimed Australian actor Liam Hemsworth will be honored with a G'Day USA Excellence in Film award in recognition of outstanding performances in films including The Hunger Games and Independence Day: Resurgence.
Production Designer Deborah Riley will be honored with a G'Day USA Outstanding Achievement in Film and Television award. The four-time Emmy Award winner is a recognized industry leader, whose work in set design and art direction has helped bring the worlds of The Matrix, Moulin Rouge and Game of Thrones to life.
EVENT SPONSORS