BUILDING approvals in April 2023 remained at their lowest level in over a decade, with declines continuing for both houses and multi-units, according to Housing Industry Association (HIA) senior economist Tom Devitt.
The Australian Bureau of Statistics today released its monthly building approvals data for April for detached houses and multi-units covering all states and territories.
"Detached house approvals declined by 3.6 percent in the month of April and multi-units fell by 16.9 percent," Mr Devitt said.
"On a quarterly basis, this leaves detached house approvals 15.4 percent lower than the same time the previous year, and multi-units down by 38.9 per cent.
"This continues the long-lagged response of Australian homebuyers to the RBA's interest rate hiking cycle, with further declines expected in the coming months," he said.
"The combination of construction cost blowouts, labour uncertainties, increased compliance costs and taxes on investors has seen approvals for multi-units fall.
"These disappointing approvals numbers are occurring as population growth surges with the return of overseas migrants, students and tourists.
"This imbalance will see the affordability and rental crisis deteriorate further," Mr Devitt said.
Total building approvals were down across all the jurisdictions in the three months to April 2023 compared to the same period last year. In seasonally adjusted terms, decreases were led by Victoria (-35.3 percent), followed by New South Wales (-28.7 percent), Western Australia (-14.6 percent), South Australia (-12.1 percent), Queensland (-4.2 percent), and Tasmania (-2.2 per ent). In original terms, the Australian Capital Territory and the Northern Territory saw declines of 49.8 percent and 27.3 percent respectively.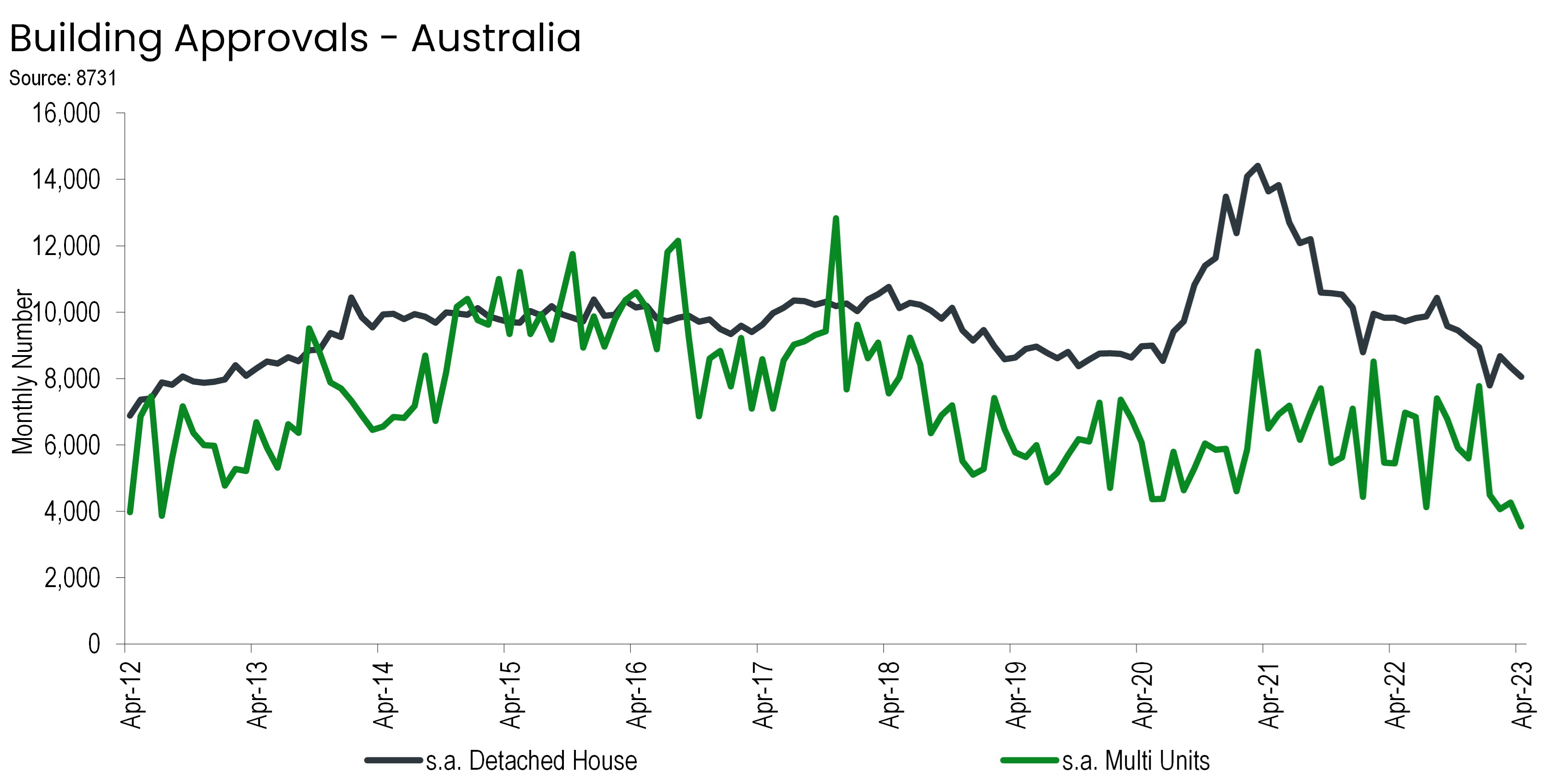 ends