Rio Tinto picks Queensland Rugby to drive Future Indigenous Leaders Program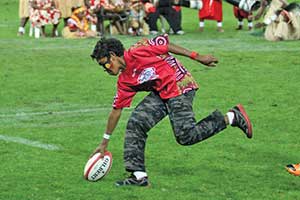 WHAT may have been missed in much of the sporting coverage  of the second annual rugby union Indigenous Round fixture on Saturday was that it marked the launch of support by mining giant, Rio Tinto, for Queensland Rugby's Future Indigenous Leaders program.
Queensland Rugby and Rio Tinto have designed the Queensland Reds Future Indigenous Leaders Program to create meaningful career pathways and leadership opportunities for young Aboriginal and Torres Strait Islander students throughout the state. Significantly, Rio Tinto is investing in the program at a time when the company has been under economic pressure, drawing back on its Australian mining investments and operations.
The Reds second annual Indigenous Round fixture saw the program's inaugural 20 participants present special edition Indigenous art print jerseys to the players.
The program is a new initiative developed to provide the necessary mentoring support and incentives to help Indigenous students from Cherbourg and Woorabinda regions reach their potential and become leaders within their communities.
Rio Tinto Energy general manager for corporate relations said the program was an extension of the ongoing role the company was playing in assisting Indigenous and remote communities.
"Rio Tinto is proud to partner with Queensland Rugby Union in the Future Indigenous Leaders Program which supports and encourages teenagers in Cherbourg and Woorabinda to stay in school, seek employment and/or further training, and to become a leader in their community," Ms Smith said.
"We want to help talented Aboriginal students not only stay at school, but do the best they can."
The program is offered to students in years six to 10, and the early stages focus on developing literacy and numeracy skills before the focus shifts gradually away from the curriculum and towards developing the students' leadership abilities.
Queensland Rugby and Rio Tinto continue to work in partnership with local schools and youth organisations to encourage, support and reward students involved in the program who are demonstrating consistency in attendance, improvement in learning, and excellence in performance both inside and outside of the classroom.
Queensland Rugby CEO Jim Carmichael welcomed the partnership with Rio Tinto and the launch of the Future Indigenous Leaders Program.
"To partner with a global mining sector leader such as Rio Tinto is extremely significant to driving positive outcomes for our code and will create huge benefits for our participants, communities and partners associated with the Queensland Reds Indigenous Program," Mr Carmichael said.
"To continue the growth of Rugby in Queensland it's critical that we are surrounding ourselves with like-minded partners committed to investing in our game, so it's with great pleasure that I welcome Rio Tinto into the Queensland Rugby family."
Queensland Reds captain and Future Indigenous Leaders Program Ambassador James Horwill endorsed the support being offered to young Indigenous Queenslanders as part of the program.
"It's important to never underestimate the impact strong leadership can have on others, whether that is on the rugby field or in your everyday commitments in life," Mr Horwill said.
"But, like any other skill, leadership is something you need to work hard at developing and it's therefore extremely pleasing to see the creation of a program that will provide participants with the necessary knowledge and tools to become leaders within their communities."
The Future Indigenous Leaders program will offer participants further avenues for future employment, education and training, including potential Rio Tinto university scholarships or future roles in that organisation.
ends