NBA Global Academy launched at AIS
THE American National Basketball Association (NBA) and Basketball Australia (BA) have launched the NBA Global Academy – an elite training centre for Australian and international basketball prospects – at the Australian Institute of Sport (AIS) in Canberra.
AIS director Mat Favier helped launch the NBA Global Academy, which will serve as the NBA's hub for top male and female prospects from outside the United States. The initial intake will include players from India, Africa, China, Argentina and Australia.
"The AIS is extremely proud of the relationship we've had with Basketball Australia and the development of young basketball players for more than 35 years," Mr Favier said.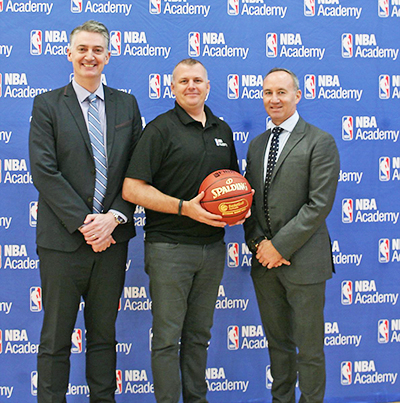 "Basketball was a foundation sport when the AIS was formed in 1981 and you only need to look through the list of Australians who have played in the NBA to realise the impact this program has had. Of the 17 Australians who have played in the NBA, 14 of those have been through the basketball program here at the AIS.
"Some incredible female players have emerged from the AIS and gone on to be stars in the WNBA, like Lauren Jackson and Penny Taylor to name a few.
"Australian basketballers have earned a reputation in the NBA as professional, hard-working and team-oriented. These are all traits instilled through their development with Basketball Australia and the AIS."
Basketball Australia will continue to operate its Centre of Excellence for Australian athletes at the AIS, complementing the NBA Global Academy.
"Basketball Australia is delighted to partner in this venture, which will enable our world-class coaches and athletes to share their knowledge with the NBA," Basketball Australia chief executive Anthony Moore said.
" Our Centre of Excellence has an incredible track record of producing athletes who can compete on the international stage. We are honoured to be hosting NBA Global Academy and helping to develop promising young talent from around the world."
The NBA Global Academy follows the launch of NBA academies in Hangzhou, Jinan and Urumqi, China; Thies, Senegal; and Delhi National Capital Region (NCR), India. The NBA Global Academy at the AIS hosted the inaugural NBA Academy Games from in June, including squads from the international academies and Australian youth teams.
NBA vice president for international basketball operations Brooks Meek, who is also head of Elite Basketball, said, "Basketball Australia's internationally recognised coaches have successfully developed top prospects for many decades. We're looking forward to working with BA on this initiative and conducting the first NBA Academy Games."
NBA Global Academy will employ a holistic, 360-degree approach to player development with focuses on education, leadership, character development and life skills. As part of the program, the students will compete against top competition throughout the year and will have an opportunity to be selected for travel teams that play in international tournaments and exhibition games.
ends