Coates on for Coolangatta Gold
AUSTRALIA's most iconic surf sports endurance race will now be known as the Coates Hire Coolangatta Gold in a landmark sports marketing naming rights deal.
The new three-year partnership links Australia's largest equipment hire company, Coates Hire, which has most notably marketed through motor sport, with an event that continues to challenge the world's most elite surf sports athletes, 31 years after its inception.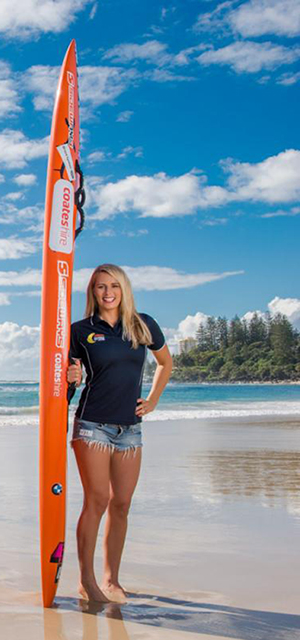 "The Coolangatta Gold is the perfect fit for Coates Hire," the company's chief executive officer Michael Byrne said. "It's such an iconic Australian event and we are very proud and privileged to be the naming rights partner for the next three years.
 "Our new partnership with Surf Life Saving Australia has very close alignment to the areas we are focusing on as a business – safety and community," he said.
"The sponsorship also enables Coates Hire to showcase our ability to provide equipment and event services in a challenging logistical environment, with multiple sites over a broad area needing to be built and then removed over a relatively short time – let's just say I'm looking forward to the Gold Coast turning to more of a bright orange this October."
The Coolangatta Gold was launched in 1984 as the concept for a movie script of the same name. Since then, surf lifesaving luminaries such as Guy Leech, Darren Mercer, Caine Eckstein, Ali Day, Hayley Bateup, Courtney Hancock (pictured right) and two-time defending open women's champion Liz Pluimers (who won the event for the tird time in 2015) have tasted success on the 42km course.
In 2015, the categories for the Coates Hire Coolangatta Gold short-course will be expanded to include a 'mates wave' initiative. The Mates Wave will give athletes the chance to engage in head-to-head duels with their friends or colleagues, regardless of age or gender.
This has also been tailored as the perfect opportunity for corporate challenges, said Surf Life Saving Australia president, Graham Ford.
Mr Ford welcomed Coates Hire's backing and said the new partnership would help broaden the profile and legacy of one of the most iconic events on Australia's sporting calendar.
"There is a synergy between the two organisations and it makes sense for Australia's largest equipment hire company to team with Australia's largest volunteer movement of its kind," Mr Ford said.
"Coates Hire is known for its reliability, performance, energy and detailed planning in everything it does. They are key traits for anyone thinking about taking on an event like the Coates Hire Coolangatta Gold, be it athletes or our valuable partners.
"There are exciting times ahead for Surf Life Saving in our delivery of sport and events and ultimately doing what we do best, keeping our beaches safe. We are thrilled to have Coates Hire joining and assisting us on that journey."
The partnership also installs Coates Hire as the exclusive supplier of hire equipment and event infrastructure for both the Coates Hire Coolangatta Gold and The Australian Surf Life Saving Championships, to be held on the Sunshine Coast in April 2016.
The Coolangatta Gold was staged on October 10 and 11 in 2015 and for the first time in tis history won by each of the reigning Nutri-Grain Ironman and Ironwoman Series champions, Ali Day and Liz Pluimers. 
http://sls.com.au/coolangattagold
ends