US lead on sports innovation from Stanford ... to Australia
EXTRA >>
THE STANFORD Graduate School of Business Sports Innovation Conference, staged at Stanford University, California in April, showcased trends taking shape in the US that Australian sports industry leaders should keep an eye on.
This, just the second annual Stanford Graduate School of Business Sports Innovation Conference, highlighted the diversity of innovation taking place in the US sports industry – and one of Australia's leaders in sports biometrics, Catapult Sports, was among the leaders. The conference saw how virtual training was coming into its own, how sports organisations were harnessing 'big data' and how smart sporting codes were developing new inclusive programs for women and children.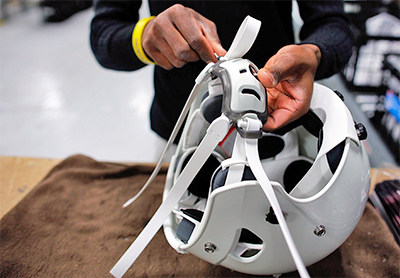 There were also some revelations about how the issue of sports concussion prevention and treatment was on the cusp of a major breakthrough.
Leaders from all corners of the sports world gathered to share their insights on pushing the boundaries of the industry and the conference produced a range of innovation case studies, a Stanford Graduate School of Business spokesperson said.
"From building winning traditions on the backbone of technology to harnessing the dynamics between fan and franchise, teams must have a thirst for innovation to compete — both on the field and in people's hearts — in the 21st century."
VIRTUAL TRAINING: REALITY
The conference heard how 'virtual training' has up until now been more fantasy than reality in sport. Attempts to train football players with virtual reality (VR), "has been going on for 20 years," said Stanford head football coach David Shaw. "All of them have failed; all of them have been terrible."
Now the team behind STRIVR Labs, a product of Stanford's Virtual Human Interaction Lab, may have cracked the code. Its technology could revolutionise how National Football League (NFL) quarterbacks, in particular, can hone their decision-making skills and speed up their reaction times — and without having to drag the full team onto the practice field.
It comes down to what's known in the field of VR as 'presence' – the psychological phenomenon of feeling like you are actually inside the simulation. Such realism is made possible by filming actual players and events on the football field, rather than relying on 3-D modelling or video-game effects.
The result is immersive enough that, for the athletes who have used it, "as far as their brain is concerned, they're actually running a play," Mr Shaw said.
Mr Shaw said Kevin Hogan, Stanford's starting quarterback, had his best three games after he started training with VR at the end of the 2014 season.
"He was always big, fast, strong, and a heck of a quarterback," Mr Shaw said. "We got him to think a little bit quicker with immersive virtual reality."
While STRIVR has found that 'the killer app' for VR is in training and simulations, Dan Reed, head of global sports partnerships for Facebook, sees limitless potential for VR in entertainment.
Mr Reed said, "99.9 percent of NBA fans globally will never be able to sit courtside. But with VR you can literally transplant people to that experience and sell a billion courtside tickets for every NBA game all season long."
BIG GAME DATA
The conference heard how, over the past decade, it has become increasingly clear that sports teams can no longer expect to just get the best players and win.
As more organisations dedicate resources to the quantitative side of sports, from advanced statistical analysis and predictive modelling to the booming field of tracking performance with biometric devices, the playing field has levelled. "
The new competitive advantage will not come to the teams that are capable of gathering the most data – it will go to the teams that can quickly and efficiently make sense of it all," the conference heard.
That means big opportunities not only for businesses that can help quantify performance metrics with atomic precision, but also for those that can funnel that data into coherent, useful information.
"We already gather so much data, but we're not necessarily finding the right story to present to the player or the coach," said Richard Heal, chief technology officer of Sparta Software Corp.
"We want to get coaches back to coaching. We have too many coaches spending too much time in spreadsheets, collating data."
Mark Verstegen, founder and president of EXOS, which designs training programs, said even an organisation outfitted with the most cutting-edge technologies will not benefit much if it is not built to act upon the very data it is gathering. Teams need to have a "supply-chain management of human performance" — people in positions to make coordinated efforts to help athletes sleep better, eat better, move better, reduce injury, and improve performance based on what trainers, nutritionists, therapists, and other specialists find in the data.
"That's where the big gaps are," Mr Verstegen said.
Brian Kopp, Catapult Sports' president of North America, estimated that only 5 percent of pro and college athletes are using some sort of biomechanical devices, and even then it is almost entirely in training, as most leagues are only beginning to consider allowing them on the field during games.
"But if you look at the most successful teams in any sport," he said, "you'll find the ones that are the most aggressive in their adoption of advanced training and tracking technologies.
Anyone leading an organisation that isn't doing something in this area will not have a job soon.
"They'll be replaced by someone who gets it," Mr Kopp said.
However, questions emerged around the proliferation of biometric technologies.
Getting players, especially older ones, to buy in is one challenge, Mr Kopp said – the key is showing them that, rather than quantifying how their skills might be deteriorating, performance data will help them to extend their career and maximize their earning potential.
"Once you do that, they're usually very enthusiastic about it," he said.
Another issue is the question of who owns the data — the player, the team, or the technology manufacturer? Also, what limitations need to be put in place?
"We sometimes forget that athletes are human," Mr Heal said. Just because teams pay athletes millions of dollars, does that give them the right to know what players are doing in their off time?
"There's a person living inside that body," Mr Verstegen said.
ends