3D printing, modelling to Disrupt Surfing
EXTRA >> TWO University of Sydney Business School MBA students, Gary Elphick and Jason Rogers, have taken the surf sports market by storm with an innovative new business concept which allows customers to affordably customise their surfboards.
Disrupt Surfing is one of a growing number of enterprises dispensing with the traditional business model of designing products in a studio, manufacturing them in a factory and displaying in a store.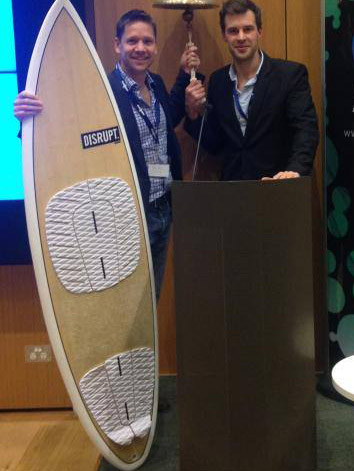 Instead, Disrupt offers an online service allowing customers to design products according to their desired size, shape and colour. Using the latest technology, Disrupt Surfing creates three-dimensional (3D) renders of the customer's desired board which are then used in the manufacturing process.
"3D printing, modelling and manufacturing are going to revolutionise the way the world thinks of their sports gear, you should never have to settle for anything less than exactly what you want," said Disrupt Surfing co-founder, Gary Elphick.
The company has been in operation for only eight months and is already cash flow positive, selling more than 1000 products to happy customers from as far as the US, Kenya and Japan.
A large part of the success has come down to an astute and engaging website that not only provides an easy path to design and manufacture, it also has a high-touch approach including online live help on a personal basis, often linking with the owners of the business themselves.
So successful is the start-up venture that Mr Elphick and Mr Rogers are now extending their customisation to other sports lines such as kite surfing, snowboarding and stand-up paddle boards.
"The level of customisation we are able to provide is almost limitless," said Mr Rogers said. "You can visualise a customer's character through how they personalise their sports gear – a shark proof surf board, a leopard skin print snowboard or a bumblebee stand-up paddle board, it says a lot about a person.
"Our sports gear is made in the same location, using the same materials and engineering as many big surf brands. We only sell online and ship direct. We offer 100 percent customised boards at 50 percent of the cost," he said.
Mr Elphick and Mr Rogers attribute much of the success of their start-up to the practical nature of their MBA course.
They said learning from experienced business professionals about leading teams, managing a business, and seizing opportunities has helped them avoid the pitfalls a lot of start-ups face. The course also encouraged the duo to be progressive leaders.
"People are either going to love us or hate us, it's a very polarising concept especially for traditionalists and traditional retailers," Mr Elphick said. "You can expect to see a lot of commentary."
ends