New home sales 'cut in half by cash rate increases' says HIA
NEW HOME sales for the past three months are almost 47 percent lower than for the same period last year, according to the Housing Industry Association of Australia (HIA).
"Sales of new homes fell again in January, down by 12.8 percent for the month, leaving sales in the previous three months a remarkable 46.7 percent lower than in the previous year," HIA's chief economist, Tim Reardon said. The figures were drawn from the HIA New Home Sales report – a monthly survey of the largest volume home builders in the five largest states. The report is widely used as an indicator of future detached home construction.
For the three months to January 2023, compared with the same period the previous year, new home sales in New South Wales were down by 73.1 percent, followed by Queensland (-53.9%), Victoria (-41.6%), and Western Australia (-21.7%). South Australia had an increase of 2 percent
"Sales of new homes have stalled in recent months as the adverse impact of the RBA's rate increases continue to erode market confidence," Mr Reardon said.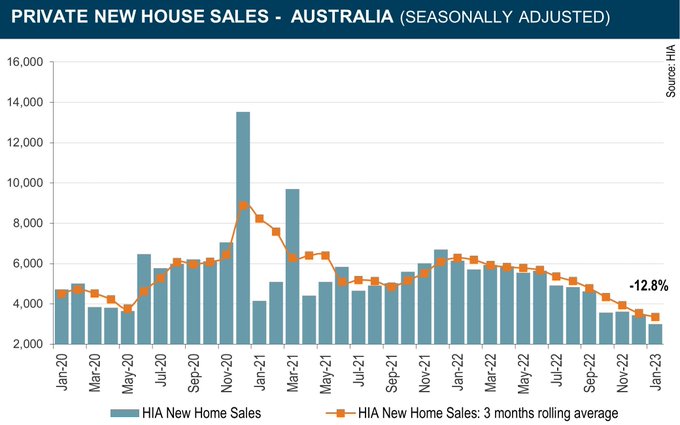 "There is no indication that the market has reached the bottom of this cycle with sales falling in all states. A further increase in the cash rate in February is likely to see sales fall further.
"Without an improvement in access to finance, or a lowering of rates, building activity will start to contract from late this year," he said.
"Many buyers have been forced from the market by the higher rates, but even those buyers unaffected by the RBA's actions are unwilling to purchase given the economic uncertainty.
"There are long lags in this cycle given the large volume of building work underway which will obscure the impact of the rate rises on the wider economy. There is a risk that once the contraction in home building occurs, and slows activity across the rest of the economy, that it will prove difficult to stop.
"The RBA overshot interest rate increases after the GFC (Global Financial Crisis) and in previous cycles, resulting in a roller coaster ride for the building industry. It appears that the RBA is set to continue this boom-to-bust cycle," Mr Reardon said.
"The RBA doesn't need to crush the economy in order to slow inflation. The supply chain disruptions that caused the high inflation in recent years are easing for reasons unrelated to the RBA's actions.
"The focus of policy makers should be on other tools to address inflation, not simply interest rates. Interest rates are a poor tool for addressing inflation and fiscal policy measures have been shown repeatedly to be better at managing the risks of embedded inflation.
"The RBA isn't going to return the economy to stability by putting the building industry through boom-and-bust cycles," Mr Reardon said.
ends.