Ocre becomes Australia's global 'laid-back luxury' brand
FROM ORIGINAL works of art through to textiles and fashion accessories, Tarn Mclean's works are a study in natural beauty, the fluidity of art and a demonstration of her phenomenal talent.
A doctor of philosophy, majoring in painting, Dr McLean's new collection under her lifestyle brand Ocre – which officially launched in May in Sydney – features 12 stunning original works of art, a derivative collection of fabric and wallpaper designs and a curated collection of handbags with luxurious finishes in 22 carat gold, opal stone and pearl.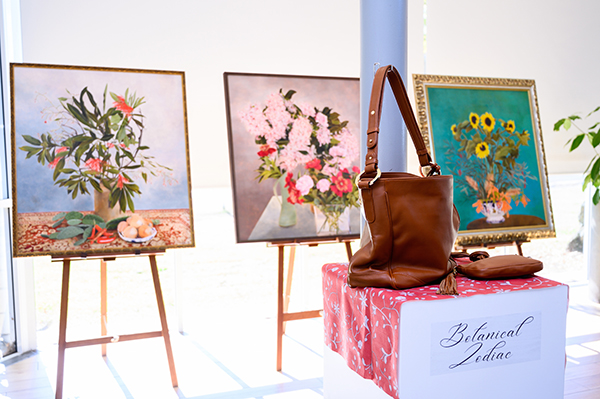 While each of the components work independently, they all derive inspiration from the one source – the floral zodiac – with the 12 evocative works of art each representing a floral emblem of the 12 star signs that form the basis of the collection.
"Inspiration came to me two years ago on my birthday," Dr McLean said. "I'm a Capricorn and as my birthday is in January I was planning my creative year ahead and wondered what my zodiac flower was. If I had one then everyone had one. The rest, as they say, is history.
"We all know our birth month gem stone but what about our flowers? I thought if I could paint them then I could gift everyone who has ever wondered what their flowers are, in the most beautiful way I could," she said.
The wallpapers and fabrics, meanwhile, "are a representation of the paintings, but in a more democratic way," Dr McLean said.
"Not everyone can afford to purchase the original oil paintings, so I use them as a point of departure for making beautiful homewares and accessories. A truthful testament to our dedication of turning art into beautiful designs to wear and live with."
Currently manufactured in Australia and the UK, Ocre's fabrics and wallpaper collections are printed to order on the finest Belgian linen and Australian cotton.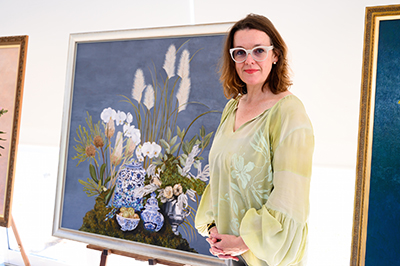 The collection is available, at this stage through Sydney based boutique agency Inge Holst, with expansion plans set to move into global markets including both the UK and the US.
Dr McLean's passion is for what is known as 'non-objective painting' – which is derived from the early 20th Century movement, Russian Constructivism.
"Russian Constructivism has a focus on human behaviour where our understanding and knowledge of the world around us is transferred into experiencing the world," Dr McLean said. "This is why, in the commercial arena, I have an interest in providing art as turned into beautiful designs for my gorgeous clients to use, wear and live with.
"It is important that both my interests hold a story and if I design a textile or handbag they have heritage and history. The heritage is held in my ancestral line being my great, great grandfather Adam Forster, who was a botanical artist in the early 20th Century and whose works are now held in the Australian National Library, Canberra."
Dr McLean's handbags add a fashionable touch to the collection. The embodiment of Ocre's 'laid-back Australian luxury' aesthetic, the bags are all made of the finest materials and are hand-constructed in Australia.
While each design features luxury natural embellishments such as pearl shell, opal boulder rock and 22 carat fittings, they are also all lined with the zodiac fabrics – creating a neat tie-in with the new collection.
"Luxury handbags have long been an obsession of mine and after studying fine art I realised I wanted to share my knowledge and skills with my friends, but in such a way that they could wear and use my art," Dr McLean said. "Handbags were the most obvious choice.
"Finding the finest craftsmen on shore here in Australia has been a challenge, but I believed from the beginning, if Italy can have Louis Vuitton and Ferragamo, then Australia can have its own: Ocre.
"And while we're at it, magnify our beautiful resources – and a culture of laid back luxury."
ends