David Stratton's Aussie cinema special honoured by Emmy nomination
THE team behind the landmark ABC-backed documentary David Stratton's Stories of Australian Cinema received an International Emmy Award nomination in 2018.
The three-part series, broadcast on the ABC in 2017, was nominated for the 2018 International Emmy for Arts Programming, which recognises the world's best programs dedicated to an art form or artist. The International Academy of Television Arts and Sciences in New York announced the nominees. The winners were announced on November 19 and the winner of this section was Israeli film Etgar Keret: Based on a True Story.
"I'm thrilled that Stories of Australian Cinema has received this most prestigious nomination," cinephile David Stratton said. "Congratulations to Sally Aitken, the writer and director, Jo-anne McGowan and Jennifer Peedom, the producers, and to the ABC for supporting this series, which was more than anything else a tribute to the richness, talent and variety of Australian films and filmmakers."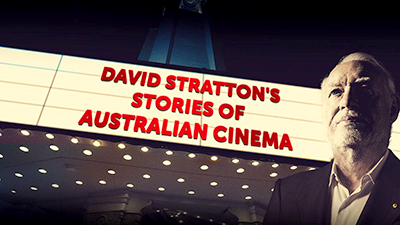 David Stratton's Stories of Australian Cinema was featured on ABC iview late last year, along with the classic Australian films Careful He Might Hear You, Lantana, Walkabout, My Brilliant Career and Wake In Fright.
In David Stratton's Stories of Australian Cinema, the revered film critic and former co-host of the ABC's At the Movies focuses on the films that capture the nation's true nature with candour, emotion and humour.
Joining him in sharing this story are actors including Nicole Kidman, Judy Davis, Russell Crowe and Jacki Weaver, along with directors Gillian Armstrong, George Miller, Fred Schepisi, Bruce Beresford, David Michod, Rachel Perkins and Warwick Thornton.
Running through the documentary is the acknowledgement that Australian cinema has contributed to a greater understanding of Indigenous Australia, through films such as Jedda, Walkabout, Rabbit Proof Fence and Bran Nue Dae.
David Stratton's Stories of Australian Cinema was produced by Stranger Than Fiction Films for the ABC, with the support of Screen Australia, Screen NSW and in association with the Adelaide Film Festival. The series was written and directed by Sally Aitken and produced by Jo-anne McGowan and Jennifer Peedom.
ends