Screen Australia announces more than $3 million in development
THE LATEST Screen Australia funding covers a diverse slate of projects including a true post-War story from the Oscar-winning team behind The King's Speech, a Dreamtime virtual reality experience, to an online series about bipolar disorder that is being co-executive produced by British comedian Stephen Fry.
Two Indigenous television projects and eight multi-platform projects have received production funding. Eight feature film projects have received development funding, and two individuals and two companies have received talent and sector development funding, totalling more than $3 million in funding from Screen Australia.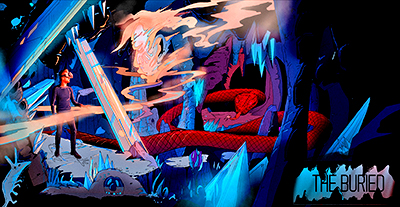 The two Indigenous television projects to have received production investment funding are ABC TV's The Warriors and the NITV documentary Carry the Flag.
The Warriors is a new Indigenous comedy drama series from Arenamedia, set in the competitive world of Australian Rules Football, with major production investment from Screen Australia and funding support from Film Victoria.
NITV documentary Carry The Flag (working title) delves into the story behind the Torres Strait Island flag designed by Bernard Namok, from Tamarind Tree Pictures with Screen Queensland and Screen Territory support.
Eight multiplatform projects have received production investment funding.
Virtual reality project The Buried  is a 3D immersive experience that plunges the viewer into a magical Dreamtime world, from Indigenous writer/director Tyson Mowarin, creative director Stuart Campbell and producer Justin McArdle, with funding support from Screenwest.
Conspiracy thriller Event Zero is a hybrid-format SVOD feature film and TV series based on the 2012 web series of the same name, from producer/director Enzo Tedeschi (Airlock, The Tunnel).
Australian Irish co-production teen comedy series Drop Dead Weird, for Seven Network and RTE Ireland, follows an Australian family who move to rural Ireland to run the family B&B. Its producers are Monica O'Brien and Sally Browning and it has funding support from Screen NSW.
British comedian Stephen Fry and Gina Carter are executive producing the web series HighLife, a companion piece to the highly acclaimed series Low Life from creators Adam Dolman and Luke Eve, about 17-year-old Genevieve who experiences her first manic episode of bipolar disorder.
Meanwhile, the punk rockers from Newcastle return for another season of antics in YouTube mockumentary These New South Whalesfrom writer/director/producing team Jamie and Ben Timony and Todd Andrews, with Laura Waters (8MMM) joining Jeffrey Walker (Dance Academy) as executive producer.
The latest round of Story Development funding, from July to September 2016, saw eight feature film projects share in more than $250,000 worth of funding.
Among those funded is The Unknown Soldier, based on the inspiring true story of the British priest who created the first Tomb of the Unknown Soldier, to help a nation grieving after The Great War. Its acclaimed screenwriter Jan Sardi (The Secret River, Shine) is joined by the Oscar-winning team from See Saw Productions, Emile Sherman, Rachel Gardner and Iain Canning.
High octane thriller Celestial Blue's premise featured air hostess Avery faced with a deadly pandemic that breaks out on board mid-flight. Celestial Blue comes from These Final Hours writer/director Zak Hilditch and producer Liz Kearney (Paper Planes, Spear).
The Blue Tinis a powerful dramatisation of a death-in-custody tragedy and a family's struggle for justice, from producer David Jowsey (Goldstone, Mystery Road) and writer Stephen Sewell.
Sci-fi dystopian drama In Vitro from writer/director/producing team Will Jaymes, Tom McKeith and Talia Zucker is the second outing for Jaymes and McKeith whose debut feature Beast with Sam McKeith was selected for TIFF in 2015.
Jirga, from writer Benjamin Gilmour and producer John Maynard (Sherpa),  is about a former Australian soldier who returns to Afghanistan to find the family of a man he killed in combat.
 ends