Seven edgy dramas backed by Screen Australia
EXTRA >>
SCREEN Australia is funding seven unconventional series through its Multiplatform Drama program. The program supports risky projects with unorthodox formats.
Screen Australia's head of production, Sally Caplan said these productions utilise non-traditional platforms for distribution, making them accessible to global online audiences.
The innovative slate features stories from an Emmy Award–winning team, a popular cult comedian, an all-female comedy team, two YouTube stars and the return of the worst wine series ever made. The eclectic range delivers comedy entertainment with broad audience appeal.
"The online space is an extraordinarily rewarding growth area for Australian filmmakers; online videos made by creators we have supported through the program have been viewed over a billion times. How to Talk Australians and The Katering Show are viral hits and #7DaysLater has pushed the envelope of innovation, recognised internationally with a Digital Emmy win. The worldwide critical acclaim and festival success of shows like Wastelander Panda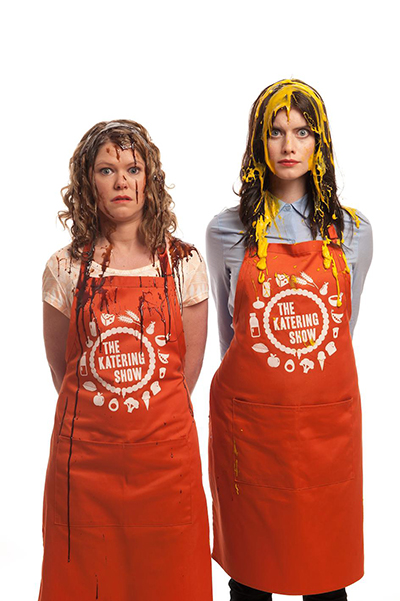 and Noirhouse continues to showcase the dynamic talent and fresh ideas coming out of Australia," Ms Caplan said. 
"The Multiplatform Drama program has been instrumental in propelling Australian talent to a global arena and has played a vital role in supporting the screen industry to find a new pathway to audiences in phenomenal numbers. We look forward to presenting some of our killer talent at a select showcase in April at MIP Digital Fronts at MIPTV in Cannes."
Filmmaker Michael Shanks has multiple YouTube mega-hits under his handle TimTimFed – most recently with his parody of the Star Wars: The Force Awakens trailer. With almost 11.5 million hits to date, the George Lucas Special Edition has spawned dozens of YouTube responses.
Working with LateNite Films, Mr Shanks will write and direct the six-part online comedy series The Wizards of Aus, a fish-out-of-water story about a Gandalf-esque wizard who decides to turn his back on the magical realm and settle down in Footscray – with disastrous results.
Known as the RackaRacka, Adelaide's Philippou brothers have built a vast, dedicated online audience, with 806,000 YouTube subscribers. Screen Australia will support them to make three episodes of their trademark stunt-laden, high-octane comedy, Versus, allowing them to deliver action-packed content on the next level. 
Julie Byrne of Triptych (The Babadook) will produce the series with Danny and Michael Philippou on board to write and direct. The South Australian Film Corporation will also support the project.
From producer/director Nathan Earl, the second series of Plonk will bring the team back together to pick up where the first series left off. This time the incompetent wine series host, Chris Taylor (The Chaser's War on Everything), will wreak havoc in South Australia's renowned wine country. With distribution across the Nine Network, Stan and YouTube, Plonk series 2 will be highly accessible to audiences across multiple platforms.
Paul Fenech has delivered striking comedy to Australian audiences with Fat Pizza and Housos. Screen Australia will support his web series debut, Dumb Criminals Motorcycle Club, to deliver his clever Australian humour to the world. The 10-part, short-form comedy follows a group of new characters, who are the most inept criminals ever to ride on two wheels.
Endemol is collaborating with an emerging all-female comedy team onFragments of Friday, a short-form online series. The comedy sees a group of friends in an all-too-frequent scenario – trying to piece together their Friday night after waking in a haze of overindulgence. Writer/director Kacie Anning is currently causing waves with her online series Minister for Men starring Gretel Killeen.
From the comedy powerhouse of Princess Pictures (Summer Heights High, It's a Date), comes an original opera crafted for a contemporary on-screen experience. Screen Australia will support The Divorce, a witty 'soap opera' in collaboration with Opera Australia and with support from Film Victoria. The opera will be broadcast on ABC TV and iview, with Universal Pictures set to distribute theatrically. The broadcast/online format is four half hours and the theatrical format will screen as a 90-minute film.
Before their Digital Emmy win for #7DaysLater, Queensland's Ludo Studio received support to create animated comedy series Doodles, which brought to life the artistic contributions of their social media audience. Screen Australia will support the team to make a second series of 24 x 30-second episodes, this time with ABC TV and YouTube giant Frederator (Adventure Time).
Now an open-ended program, accepting applications at any time throughout the year, the Multiplatform Drama program continues to approach creative content in a flexible and open manner.
THE DIVORCE
Multiplatform TV and theatrical
Princess Pictures Holding Pty Ltd
Producer Andrea Denholm
Executive Producers Emma Fitzsimons (Princess Pictures), Lyndon Terracini (Opera Australia)
Director Dean Murphy
Writer Joanna Murray-Smith
Composer Elena Kats-Chernin
Synopsis The Divorce is an opera written specifically for the screen, rethinking the operatic art form for a contemporary film and television audience. Iris and Jed, rich and urbane, are happily getting divorced and are throwing an elaborate party at their elegant home to celebrate. By the end of the evening, Iris and Jed's divorce has triggered a renegotiation of all certainties. Humorous, witty and complex, this 'soap opera' is a light-hearted exploration of the universal themes of love, passion, regret, greed and longing: a celebration of the profound in the shallow. 
DOODLES SERIES 2
Animated series
Ludo Studio Pty Ltd
Producer Charlie Aspinwall
Director Daley Pearson
Director/Animator Benjamin Zaugg
Synopsis Doodles is an interactive, animated multiplatform comedy series that takes real children's drawings and turns them into hilarious micro movies featuring a cast of adorable, absurd and amazing coloured-in characters surrounded by insanity. Doodles is produced for ABC3 by the Emmy® Award-winning, Ludo Studio. Ludo will be collaborating with the US production company Frederator (Adventure Time) to distribute the series online.
DUMB CRIMINALS MOTORCYCLE CLUB
Online video
Antichocko Productions Pty Ltd
Producers Paul Fenech, Joe Weatherstone
Executive Producer Andrew Taylor
Writer/Director Paul Fenech
Synopsis The story of two hopeless crims, Rabbit and Rongo. Out of jail they regroup and battle old girlfriends, bikie gangs and their own stupid plans and schemes. They team up with other petty criminals, Jimmy Speed, Pothead and Droptank. This series is based on true dumb crimes from around the world only the names have been changed to expose the guilty. The old saying goes, crime doesn't pay... Well, it pays less if you're a DUMB CRIMINAL.
FRAGMENTS OF FRIDAY SERIES 2
Online video
Endemol Australia Pty Ltd
Producer Courtney Wise
Executive Producer Michael Horrocks
Writer/Director Kacie Anning
Synopsis Fragments of Friday is a comedy about piecing together the night before, with your best mates by your side. Season 1 saw Alex and Sophie haphazardly grapple with the perils of the 'day after', navigating everything from waking up in bed with a cab driver, the accidental theft of a yacht, a healthy dose of bodily waxing and an adrenalin-induced punch-up. Season 2 picks up where Season 1 left off, with Alex and Sophie being joined by their mutual friend Maddie on many misadventures – from misinterpreting the term 'pool party' to playing Russian roulette with magic mushrooms through to the much anticipated annual 'Church Wine Drunk Day'. Told with humour, poignancy and a generous injection of physical comedy, the story of Fragments of Friday speaks to the great tradition of female friendship through the scope of hazy memories, drunken honesty and, above all, affection.
PLONK SERIES 2
Online video
One Stone Pictures Pty Ltd
Producer Georgie Lewin
Executive Producers Nathan Earl (One Stone Pictures), Ben Ulm (ITV Studios Australia)
Director Nathan Earl
Writers Nathan Earl, Joshua Tyler, Nicholas McDougall
Synopsis Plonk follows the trials and tribulations of a small television crew as they travel through South Australia's rich and diverse wine regions, trying to produce a unique, engaging and credible wine program… and failing miserably along the way. Plonk is a love letter to Australian wine and its people… just with the spell check function turned off. It's Getaway meets Heart of Darkness,Sydney Weekender meets Lost in La Mancha. It's Plonk.
VERSUS
Online video
Triptych Pictures Pty Ltd
Producer Julie Byrne
Executive Producer Jennifer Jones
Writer/Directors Danny Philippou, Michael Philippou
Synopsis Three videos that parody teams of popular comic book, game and movie super heroes pitted against each other in riotous, action-packed rivalry. 
THE WIZARDS OF AUS
Online video
LateNite Films Pty Ltd
Producers Chris Hocking, Nicholas Colla
Director Michael Shanks
Writers Michael Shanks, Nicholas Issell
Synopsis With an almighty sneeze, Jack accidentally transformed Flinders Street Station into a giant fish monster. Unintentionally ousting the existence of Wizards in suburban Australia was not Jack's plan and now a nationwide ballot threatens to deport his people back to their treacherous magical realm. We follow Jack as he tries to rally his local community (Footscray) around rights for the previously clandestine magical beings – whilst simultaneously trying to dissuade other members of the Wizard community to stop making such arses of themselves.
ends