FarQR good at branding
EVERY now and then a technological innovation comes along that is both magnificent and magnificently named.
FarQR codes fall magnificently into that category. 
If you don't get the joke, then you probably also have never laughed at directions being given to the Far Canal, strong advice to join the Far Queue, and the unfortunately named 1900s American sculptor, Phil McCracken.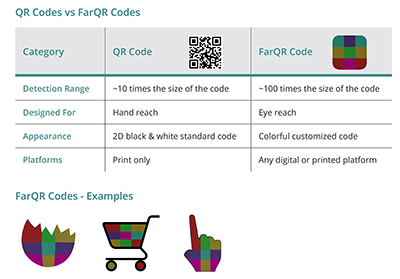 Apparently the firm Sodyo is either blissfully unaware of the inference of its new brand, FarQR – or they are marketing, as well as digital, geniuses.
While it's true that FarQR is a groundbreaking new QR Code system that is poised to "forever change the TV advertising business model" – it allows viewers to point their smartphone at the TV screen and scan a FarQR Code placed in programming that presents other information and deals on the smartphone – it's most disruptive element is surely its own brand name.
Here is how one of the co-founders, Rina Alon, described Far QR in a media release: "Broadcasters place a FarQR Code on a commercial. The viewer points their phone to the screen, and interactive content from the broadcaster instantly appears on the phone from any viewing distance. FarQR Codes allow interaction between the two most important screens in our lives – TV and smartphone. Thanks to FarQR Codes, broadcasters can enrich content, engage and captivate the audience in ways they never imagined possible."
And give everyone who gets it a laugh along the way.
Look out for these, and similar, expressions being added to the global lexicon …
FarQR stupid.
FarQR serious.
FarQR savvy.
FarQR legendary …
The shame for Australia is that the Israel-based developers of this new technology beat Queensland Rail to the naming rights.
Then again, they seem to be well ahead in the clever branding stakes and don't much care what anyone thinks, or whether others get the joke or not.
The company name, after all, is Sodyo.
But Bottomline legal teams have been dispatched to try to beat this innovative information technology company to an even cleverer brand name … SodIT, of course.
ends