Volvo's 'safety and style' joins LMM stable of Euro marques
THE NEW Volvo Cars Brisbane North dealership adds the Swedish carmaker's renowned 'safety and style' to LMM Holdings' impressive collection of motor marques that already include Ferrari, BMW, Mini, Alfa Romeo and Fiat.
LMM Holdings Pty Ltd, a joint venture between Martin Roller, Marvin Burke and Sime Darby Motors, opened its new Volvo Cars Brisbane North dealership at 773 Ann Street, Fortitude Valley in June.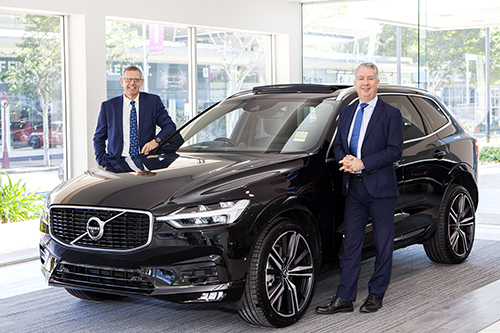 LMM has focused on assembling an impressive stable of European brands – Ferrari, BMW, Mini, Alfa Romeo and Fiat is not a bad start – and officially acquired the Volvo franchise after an extensive review process.
Following a substantial investment in the brand's footprint, Volvo Cars Brisbane North is now responsible for all of Brisbane's central, as well as the northern and western suburbs, Mr Roller said..
"It is a real feather in our cap to be awarded this famous brand and it is testament to our experience and reputation in the marketplace," Mr Roller said.
"This move will now result in Volvo customers experiencing all that encompasses premium service – LMM's promise of exceeding customers' expectations which separates it from its competitors."
The partnership with Sime Darby Motors is very significant for the dealership. Sime Darby Motors is one of the major motor vehicle players in the Asia Pacific region, with a presence in Malaysia, China, Hong Kong, Macau, New Zealand, Singapore, Thailand, Vietnam and increasingly Australia.
The Volvo Cars Brisbane North acquisition is part of Sime Darby Motors' fast-emerging Australasian growth strategy.
www.volvocarsbrisbanenorth.com.au
ends