Deloitte research shows Melbourne CBD economy will bounce back
NEW RESEARCH by Deloitte Access Economics shows Melbourne's CBD economy should grow by $6 billion in 2021 and would be on-track to return to pre-COVID levels by late 2024.
The research was produced for the City of Melbourne in May 2021 and includes comparative data on CBD economies in Melbourne, Sydney, Brisbane, Adelaide and Perth.
Despite the economic devastation caused by the pandemic, Melbourne's CBD economy is predicted to bounce back strongly, growing by 16.9 percent or about $5.9 billion to total more than $41 billion by the end of the 2021 calendar year.
Lord Mayor Sally Capp said quickening the city's economic recovery was her top priority.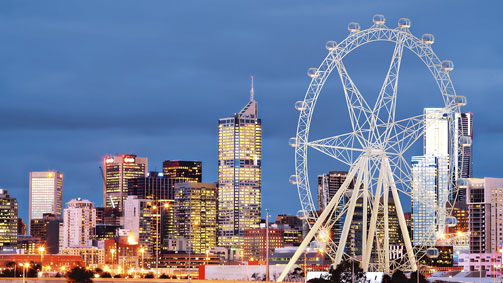 "Many Melbourne businesses have been through the toughest trading conditions in living memory and need our ongoing support to bounce back and thrive again," Cr Capp said.
"The stronger our economic recovery is the more job opportunities there will be for Melburnians. A strong economy means Melbourne will continue to have growing finance and technology industries, vibrant cultural and hospitality industries and all the other experiences that make our city so marvellous."
The recovery timeline for the CBD is forecast by Deloitte Access Economics to be four years, with the CBD returning to its pre-COVID-19 peak of approximately $74 billion in the second half of 2024.
CBD employment is forecast to bounce back, with 332,600 workers expected to be working in the city each day by 2025, only 5.5 percent (or 19,700 workers) fewer than in 2019.
The research comes shortly after City of Melbourne councillors endorsed a new Economic Development Strategy that sets a 10-year plan for the city's economic, social and cultural recovery from the impacts of COVID-19.
The strategy includes targets for economic growth across the municipality by 2031:
$150 billion Gross Local Product (GLP) (2019: GLP $104 billion);
$250,000 GLP contribution per job (2019 GLP contribution by job: $209,000);
600,000 jobs (2019 employment: 497,000);
270,000 residential population (June 2020 residential population: 183,000);
Less than 5 percent shopfront vacancy rate (May 2021 vacancy rate: 19 per cent).
Gross Regional Product (GRP) or Gross Local Product (GLP) typically measures the output of all firms based in a region or municipality. Council's Economic Development Strategy and other documents such as the Census of Land Use and Employment (CLUE) use this methodology and cover the entire municipality.
In contrast, the Deloitte research is focused on Melbourne's CBD only and it measures output based on where the employees are currently located, not where the firm is located, to account for the working from home phenomenon.
The Lord Mayor said while Melbourne was facing challenges such as work-from-home practices there were major economic opportunities on the horizon including the re-opening of Australia's borders and international students returning.
"We've all made sacrifices during the pandemic and it's time to be ambitious about a quick and strong recovery. I couldn't disagree more with those who say the city will never recover. With the right support, the city can grow into a $150 billion economy over the next decade," Cr Capp said.
City Activation Chair Roshena Campbell said the city's economic recovery was the council's key priority.
"With our Economic Development Strategy, the council has a strong plan for Melbourne to rebound from the pandemic. Avoiding lockdowns and ramping up vaccination rates will mean the city can recover faster than expected." Cr Campbell said.
"Prior to COVID-19, rental vacancies in the city were at record lows but there has never been a better time to start and grow a business in the city than right now. Competitive rents provide a fantastic opportunity to secure a CBD location for both start-ups and businesses looking to grow."
The Deloitte research did not take into account restrictions in Melbourne in June 2021 or restrictions in Sydney in June and July 2021.
ends