World-first printed solar panels completed at Newcastle Uni
THE FIRST commercial installation of printed solar panels in Australia was completed in August, with the University of Newcastle wrapping up the process for Chep Australia.
In one day, the Chep team installed 200sqm of the material, made by printing electronic ink onto sub-millimetre plastic sheets, with double sided tape on the roof of its warehouse in Beresfield, Newcastle.
With a production cost of less than $10 per square metre, printed solar panels are much more affordable than other commercially available solar technologies.
The university also believes the technology should soon be widely available for the broader market.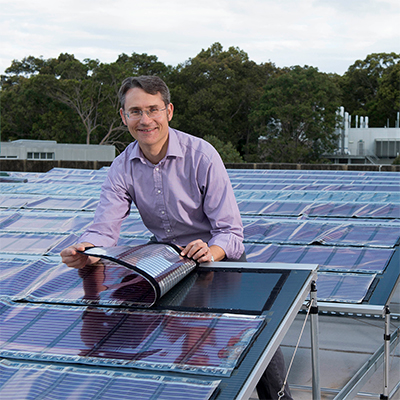 Professor Paul Dastoor, from the School of Science and Mathematics at the University of Newcastle said, "This is the first commercial uptake of printed solar in Australia, most likely the world. It's an historic step in the evolution of this technology and another example of private enterprise and community leading the charge in the adoption of renewables.
"Our printed solar cells are now considered to be at the top of the technology readiness tree.
"Those working in technology development use a NASA developed Technology Readiness Level or TRL system to determine how evolved our solutions are, with 1 being the lowest and 9 the highest," Prof. Dastoor said. "We are now rated TRL 8 and essentially considered green lit.
"On the University's lab-scale printer, hundreds of metres of material can be produced per day, however upgrading production to a commercial-scale printer would increase this output to kilometres. No other renewable energy technology can be manufactured as quickly.
"The low cost and speed at which this technology can be deployed is exciting as we need to find solutions, and quickly, to reduce demand on base-load power – a renewed concern as we approach another summer here in Australia."
Prof. Dastoor said due to the low cost of upgrading and replacing the panels, they may be provided as a service rather than an ownership based model.
"One of the most common questions I'm asked is when will people be able to buy this on shelves at Bunnings," Prof. Dastoor said.
"Unlike most centralised or de-centralised energy infrastructure, which requires a substantial upfront investment, printed solar might resemble something more akin to a mobile phone plan.
"In future, we expect users might sign onto this energy solution in a similar way to a mobile phone plan, where you determine your usage requirements, pay a monthly service fee, but never need to 'own' the infrastructure. The service provider installs and upgrades your service for you as the technology continues to develop.
"This is quite a step change in how we'll think about energy provision and energy markets in the near future."
The panels are printed using roll-to-roll printing, and could one day provide printers in the country with an entirely new revenue stream, according to a report by Australia's ProPrint online magazine.
ends