Nobody was anti ANTI at Creative3
QUEENSLAND-BASED startup ANTI took home the title of Australia's Emerging Creative Startup for 2018 at the recent Creative3 event hosted by QUT Creative Enterprise Australia (CEA) in Brisbane.
Creative3 is an annual competition CEA runs to recognise Australia's most creative startups.
ANTI is developing a beanie style helmet designed not only for protection but to be both fashionable and comfortable.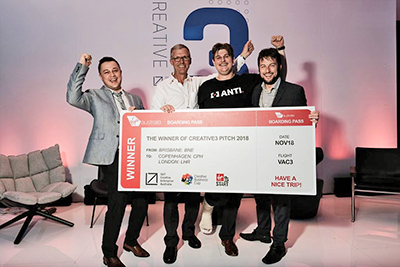 ANTI co-founder Robert Johnson said the ANTI team did not think it was right that in 2018 helmets still do not fit many people correctly – "and many find them so uncomfortable and cumbersome that they choose to not wear one"
"Helmets are life saving devices," Mr Johnson said. "Nobody drives without seat belts, so why do people shred without helmets? ANTI believes that the answer to this lies in comfort, ease of use and fit."
As the Creative3 2018 winner, ANTI will participate in the exclusive Virgin StartUp (VSU) mini accelerator, StepUp, in London.
Following their week-long intensive, the startup team members will travel to Copenhagen to represent Australia as part of the global initiative for creative entrepreneurship and innovation at the Global Creative Business Cup finals (CBC).
"Being Australia's Emerging Creative Startup for 2018 is an incredible recognition," Mr Johnson said. "It gives us credibility in the market. A lot of people don't believe we make soft helmets as safe as anything else. It shows that we can actually do it and be a real company.
"It's a fantastic recognition for all the work we've put in and we're really proud to have gone against the other teams and to have gone really well in front of all these people."
Creative Enterprise Australia CEO Mark Gustowski, said ANTI took home the award because they came up with an elegant solution that solves problems for a lot of people.
"They have developed a beanie style helmet that is a protective, fashionable and wearable clothing," Mr Gustowski said.
"Initially marketed to skiers and snowboarders, it actually has applications for bikers, kids and the disabled, and it touches so many people. They won the crowd because of the impact they can have globally."
ends