Can visual communication in business unlock billions in productivity?
NEW RESEARCH by software group TechSmith shows how increasing visual communication could unlock $6.527 billion in productivity and boost Australia's Gross Domestic Product (GDP) substantially..
According to the TechSmith report, Australian businesses could experience significant financial and productivity gains by including more visual content — such as screenshots, screencasts, images, and video — in communication with employees.
TechSmith commissioned the Centre for Economics and Business Research to examine TechSmith's own scientific research and productivity data, along with research into how people spend their time at work, to assess the impact of better use of visual communication in the workplace.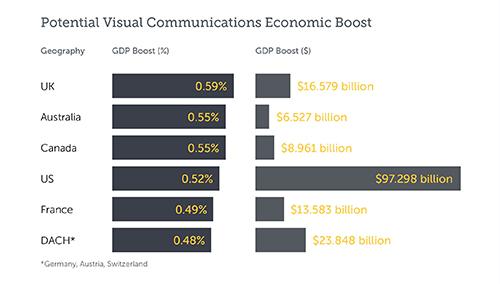 The Centre for Economics and Business Research report for TechSmith found that, in Australia, businesses stood to gain up to $6.527 billion in productivity. It is an astonishing figure that is verified by breaking down the impacts of better visual communication on an individual basis.
The research found that using visual content in workplace communications could unlock about seven extra minutes a day for every affected employee.
The average boost in GDP, if businesses were to use more visual communication, was estimated at 0.52 percent — or more than $167 billion annually across the six geographic regions studied, including Australia.
TechSmith CEO Wendy Hamilton said she was not surprised that visual content helped people perform.
"We've always known that visuals are essential to the effectiveness of communication, and therefore are essential to instruct and inspire," Ms Hamilton said.
"The essential findings of this study are, first, that visuals matter even more than most assume and, second, there is an urgency for leaders to adapt as employee demographics change."
Ms Hamilton said Australia had a lot to gain if businesses were to increase their use of effective visuals. Australia could see a 0.55 percent boost to its economy – the second highest hike of any geographic region studied – due to Australia's combination of long working hours and a high proportion of communicating workers.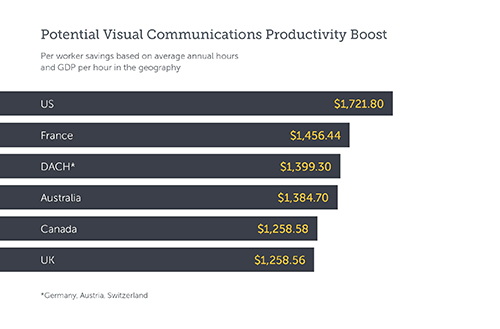 The TechSmith research also revealed the value of using more visual content in workplace communications to individual businesses.
For example, Australian businesses could save $1,384.70 per worker per year, based on average annual hours and GDP per hour.
In an eight-hour day, communicating with employees using effective visuals, such as videos and screenshots over plain-text email, the research found this could save each affected employee six minutes and 43 seconds. Over a 40-hour week, that equates to 33 minutes and 36 seconds.
TechSmith is a company uniquely placed to provide such insights. Founded in 1987, TechSmith Corporation provides practical business and academic software products that change and improve how people communicate and collaborate.
TechSmith's economic modelling was conducted by the Centre for Economics and Business Research in March 2018 and combines TechSmith scientific data and publicly-available data across Australia, Canada, France, the UK, the US and the DACH region, combining Germany, Austria and Switzerland, to quantify the impact of visual communication on business productivity.
ends