WorkingMouse makes business click
By Mike Sullivan >>
WORKINGMOUSE's reputation for transforming businesses, by streamlining operational information technology development, is definitely preceding it.
WorkingMouse teams are increasingly finding themselves in demand offshore as well as nationally, having established 'beachheads' in Singapore and London.
The reason is simple: Working Mouse has developed a reputation for rapid and effective software application development for businesses of all sizes – using its patented Codebots technology – making client businesses immediately more efficient and more profitable. Increasingly, WorkingMouse is also licensing that Codebots technology to help other developers to improve large enterprise legacy systems.
"We help automate the ordinary to help businesses achieve the extraordinary," Working Mouse founder and CEO Eban Escott said. "It's our mission. Our passion for being on the leading edge is what drives us today.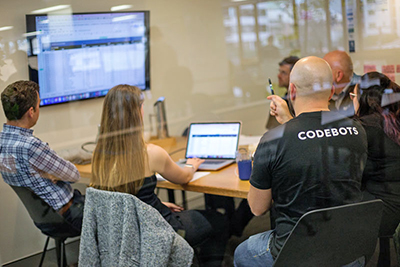 "Our Codebots write human-readable code, fast," Dr Escott said. "With a Codebot on the team, humans have more time to innovate and get creative."
A Codebot can write, on average, 300,000 lines of code in a minute. Since integrating the Codebots platform, WorkingMouse has found it can complete projects 75 percent faster than it managed earlier software development projects.
Dr Escott said, "WorkingMouse's professional services are in software development of web and mobile solutions. We partner with you to digitally transform your business through the creation of your bespoke application. We work together through each step – from scope to development to production environment."
CODING PARADIGM SHIFT
Dr Escott is a firm believer of applying agile and lean methodology to software development. In fact, he earned his PhD with the University of Queensland on this very precept and it led to the development of Codebots.
Dr Escott has over 20 years experience working as an IT professional in organisations ranging from start-ups to large enterprises.
Dr Escott is regarded as a thought leader in the area of 'model-driven engineering' and he believes software engineering can be significantly improved by using models as first-class artefacts in the software engineering process. This research and philosophy underpins the Codebots platform WorkingMouse utilises to build software.
Dr Escott has over 20 years experience working as an IT professional in organisations ranging from start-ups to large enterprises. He also now holds an adjunct professor position with UQ and sits on the Industry Advisory Board for UQ's School of Information Technology and Electrical Engineering.
WorkingMouse's breakthrough development of its Codebots system is paying off in bringing specialised applications through much faster than has been possible before. Codebots are a program tool set that interprets code required in software and app development and 'rapid-manufactures' that code for developers.
"Codebots allow developers to speed up the creative process, WorkingMouse chief growth officer David Burkett said.
"They help launch digital transformation, allowing businesses to migrate their legacy systems to modern cloud applications."
"Codebots are for developers to use to speed up creation," WorkingMouse chief operating officer David Burkett said. "They can help save the legacy system problem, bringing them through from legacy to modern."
Mr Burkett said there were about 70,000 critical access enterprise systems in use in Australia. There is a particular urgency to improve many government enterprise legacy systems.
WorkingMouse had major success in improving one particular system for the NSW Police Service.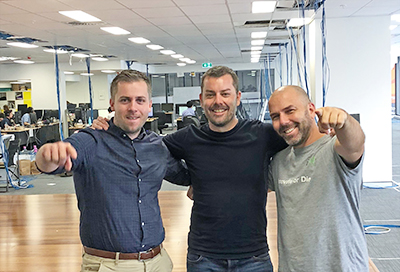 "For example, in the case of fatal crash databases in NSW, there were two police spending a full (working) day copying from police systems to a database and communicating it," Mr Burkett said.
"We transformed this database into a web application and updated the interfaces to API standards. The end result was a migration from an under-the-desk computer to a web-hosted system that can be accessed anywhere on any screen in the tech stack.
"Now those two police officers are back out catching the bad guys instead of losing time on data entry," he said.
"Codebots has taken a commercial database and synched it to a new system.
"Now the government is looking at doing it for another 300 systems within the NSW Police Service and Transport and Main Roads."
So far, major WorkingMouse partners include the Department of Defence, the Queensland Government, Unilodge, and HRL Holdings.
"Department of Defence is a huge one for us," Mr Burkett said.
WorkingMouse was introduced to the 'non-materiel' areas of Defence initially by a partner organisation and has since been certified and requested to complete projects for the
Department of Defence Materiel.
This sort of progress has helped open other doors for WorkingMouse. The Big Four international accounting firms – EY, KPMG, Deloitte and PwC – are now looking at WorkingMouse as a potential subcontractor.
WorkingMouse is also working with channel partners on the marketing of Codebots.
WorkingMouse has three channel partner arrangements in its Brisbane home town and another six nationally, with more to come. These channel partners have been of great help in getting the Codebots capability known and, in many cases, incorporated into client proposals.
While Codebots is regarded as a game changer in IT circles in Australia, it still requires the very best project management to be successful, so WorkingMouse is concentrating on fostering the right partnerships.
Many IT experts regard the area of 'forms' as being the biggest emerging opportunity for Codebots – and indeed for WorkingMouse teams utilising their own Codebots technology.
Mr Burkett described the WorkingMouse approach as being 'model-drawn' and able to utilise its low-code development platform.
"So we can augment developers," Mr Burkett said. "It all helps them to do the strategy. So, in the end, you get something that is bespoke."

PROVING CODEBOTS
Mr Burkett is anticipating more than 200 Codebot licence sales for major enterprise systems and to developers in the next three years.
Mr Burkett said developers using Codebots could write code via a 'white box' system and see the interpretive code write beside it – and then deploy that completed code system elsewhere.
"This is incredibly significant," he said of the method which came from Eban Ebscott's thesis and his subsequent research.
"It is having incredible ramifications and has encouraged some IT specialists to call WorkingMouse and Codebots 'Australia's next Atlassian'," Mr Burkett said. That is no pipe dream for WorkingMouse to potentially be bigger than Atlassian within four years, achieving 400 licence points. That is the power of the Codebots system.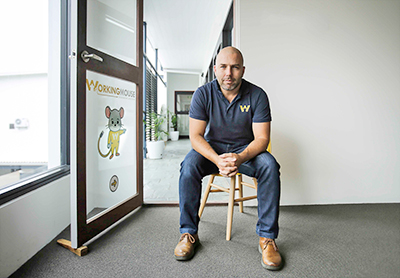 "We know CodeBots can write 92 percent of the code, but we don't know what business value that is in any one area," Mr Burkett said.
For example, in a recent test with developers using Codebots measured against traditional coding development, it was demonstrated that the developers could achieve a task in one week what would ordinarily take 8.3 weeks. It was thought the overall coding was 'cleaner' using Codebots as well – and WorkingMouse builds all its software to open application programming interface (API) standard.
In order to validate Codebots, WorkingMouse conducted a round of field trials measuring against the hypothesis 'we predict a codebot working alongside human developers will deliver more value to a software project compared to a team without a Codebot in the same amount of time'. There were six field trial participants including CUA, Credit One and Aurizon.
About 55 percent of participants rated Codebots 'much faster' against normal coding practices and the remaining 45 percent rated Codebots 'faster'. The tests delivered coding in one week that would have taken an average of 8.3 weeks, according to participants.
WORKINGMOUSE CULTURE IS KEY
But while Codebots are a technological headline act for WorkingMouse, in the eyes of David Burkett and Eban Escott the real winning formula is summed up in their people.
"Our culture is a huge thing for us," Mr Burkett said. "We have a set of core values that guide everything we do."
WorkingMouse teams use four value statements to define their missions, focus on projects and plan for the future. They are:
Fun, but not unprofessional;
Urgency, but not rushed;
Initiative, but not a lone wolf; and
Scientific, but not heartless.
These apply equally for long-serving staff as they do for trainees and work experience students that join the pipelines for WorkingMouse's future talent. Being headquartered in Brisbane is integral to attracting and retaining talent, Mr Burkett said, because of both the lifestyle and the high levels of IT education available.
WorkingMouse sponsors the University of Queensland (UQ) Computer Society. It also takes in UQ students as undergraduates.
"We have found some amazing talent that way," Mr Burkett said. WorkingMouse also has three international students on staff under so-called Temporary Skill Shortage working visas – but they have found this process is fraught with heavy compliance.
WorkingMouse also has "two beachheads" in London and Singapore, which is basically to do with its Codebots strategy and these may also yield future talent.
Behind the scenes, Working Mouse has its Academy growing all the time – and an ever deepening pool of ICT students gaining practical experience – while one of the company's most innovative developments of all is about to hit the market: an automatic testing program for enterprise systems.
And urging it all onwards is the constant research and exploration of founder Dr Eban Escott, who has just produced his latest book titled Bots that code: the Continuous Modernisation Playbook.
A very hard working mouse, indeed.

ends