Lockhart chairs The Buttery charity
LONG-ESTABLISHED northern NSW charity, The Buttery, has announced the appointment of one of the founding partners of private equity firm Next Capital, Sandy Lockhart, as its chairman.
Mr Lockhart replaces the long-serving former chair, Professor Robert Weatherby.
The Buttery Board has also appointed Byron Bay based lawyer and yoga teacher, Kara Goodsell to the position of company secretary.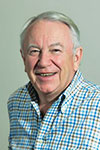 The Buttery conducts residential and community-based programs in northern NSW for teenagers and adults who may be affected by substance misuse, gambling addictions or mental health issues.
Mr Lockhart has been associated with The Buttery for many years and said he looked forward to continuing that engagement for the foreseeable future.
ends