Australian making it Biggs time in Thailand
By Ellen Boonstra, Asia correspondent >>
ANDREW BIGGS is arguably the most famous foreigner in Thailand today.
Over the last 25 years, the Australian has hosted national TV and radio shows in Thai and English. His books have been bestsellers and he has a whopping 2.5 million followers on Twitter.
For a former journalist from Queensland that's an impressive array of achievements.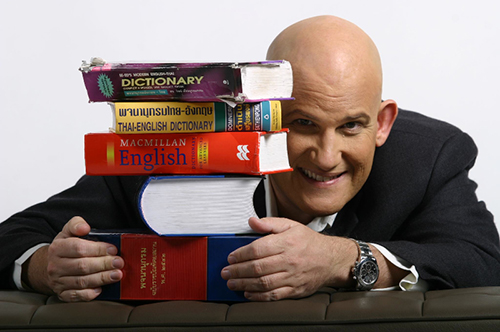 Back in the 1980s, he had the chance to go to England to work for another Rupert Murdoch-stable newspaper. Thai Airways had the cheapest flights then, but the catch – and the letdown for him – was the mandatory two-day stopover in Bangkok.
Arriving on Valentine's Day, 1989, he had no interest in seeing the city. Instead, he had planned on holing up in his hotel room to spend his downtime reading Zen and the Art of Motorcycle Maintenance, but the capital, with what he called its "air of excitement and a little bit of lawlessness," along with the genial people, slowly pulled him into their orbit.
Mr Biggs extended that two-day visa for two weeks and then two months, backpacking around much of the country. Every time he called his mother she'd tell him to leave Thailand immediately because it was too dangerous.
In an irony of travel ironies, when he finally arrived in London all of his possessions were stolen out of his friend's flat within the first two days, including his traveller's cheques and clothes – whereas nothing in the least negative had befallen him while in Thailand.
Only a month later, after realizing that being a journalist in London would be much the same as in Australia, he was back in Bangkok, convinced that the capital would be a more dramatic catalyst and backdrop for stories. That theory proved to be practical.
During his time at newspaper The Nation, he witnessed some pivotal points in Thai history, like the 'Black May' crisis in 1992, when protestors took to the streets around Democracy Monument to voice their discontent with the installation of an unelected military government.
Around then, Andrew Biggs happened to be at work in the editorial offices of The Nation newspaper, when somebody dropped by to say they needed English-language content and videos for a public bus service in Bangkok. On the spot they offered him the job.
Initially hesitant about hosting a TV show – "I have a face that's perfect for radio," he said with a wry grin – the Australian turned what could have been a banal segment, English on the Bus, into an often hilarious and culturally insightful showcase for how to teach the language in Thai terms.
The 55-year-old parlayed those appearances into regular slots on Thai TV, hosting news programs and even a game show about learning English that turned him into a household name in Thailand by the late 1990s.
THAI WAY HIGHWAY
No longer a far-flung outpost for backpackers, Thailand has become one of the world's greatest tourism success stories, notching up more than 30 million arrivals last year.
These are the kinds of now-and-then stories and recollections that he sometimes shares in his weekly column 'Sanook' (a Thai word meaning 'fun') in the 'Brunch' supplement of the Sunday Bangkok Post. It's an entertaining read that also illuminates many murky aspects of Thai culture and history unbeknown to most foreigners.
In between running his own language school, the Andrew Biggs Academy, serving as a consultant for the Education Ministry of Thailand, working on more books and more academic degrees, the workaholic mocks his brand-name status in the kingdom, saying, "I think most of my Twitter followers just want free English lessons."
While he still likes returning to his hometown of Brisbane for holidays, the most famous Australian living in Thailand today will not be trading in his celebrity status for a return to the limbo of anonymity in his native land any time soon.