EY Entrepreneur of the Year among equals
ASPEN MEDICAL founders Andrew Walker and Glenn Keys have been jointly named 2016 Australian EY Entrepreneur Of The Year.
As the Australian winners, Dr Walker and Mr Keys will travel to Monaco in June next year to compete against national winners from more than 60 countries, for the chance to be named the 2017 EY World Entrepreneur Of The Year – a feat Australian Manny Stuhl achieved last year.
Dr Walker and Mr Keys founded Aspen Medical in 2003 to provide high-quality healthcare in challenging and under-resourced environments. Today, Aspen Medical employs more than 2,200 healthcare professionals and support staff across Australasia, Africa, the US, Europe and the Gulf Region.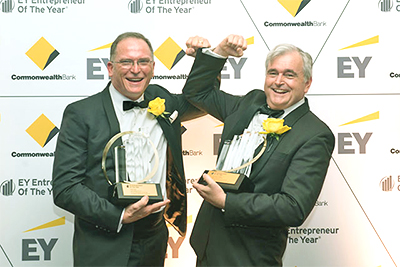 Chair of the independent judging panel, Josephine Sukkar, who is the co-owner and principal of Buildcorp, said there was strong competition among this year's applicants but Aspen Medical stood out for its capacity to drive economic and social change on a global scale. 
"Aspen Medical is an extraordinary business with the potential to make a huge impact in the health sector," the judges' comments read. "Andrew and Glenn design solutions to problems in a way that can move the world forward. It is an innovative and noble Australian business with global reach."
Aspen Medical was named this year's winner at a ceremony attended by EY World Entrepreneur Of The Year 2016, Manny Stul and a selection of Australia's leading entrepreneurs, alumni winners and judges at the Star Casino in Sydney in October.
Five other impressive Australian entrepreneurs also took home national trophies from the awards ceremony.
Other national category winners were Tim Gurner, of GURNER in the Emerging category; Bec Scott of STREAT in Social Entrepreneur; Ray Dennis of Lightforce Australia in the Technology category; Radek Sali of Swisse Wellness in the Industry category; and the Honan Family's Manildra Group won the EY Family Business Award of Excellence.
EY Oceania CEO and area managing partner Tony Johnson congratulated the winners, saying at a time when innovation and entrepreneurialism was top of mind for the Australian government and business community, there was much to be celebrated.
"The quality and creativity of the finalists this year is proof of the overwhelming potential of Australian businesses and entrepreneurs," Mr Johnson said. "We congratulate Dr Andrew Walker and Glenn Keys, and we wish them all the best in the EY World Entrepreneur Of The Year competition in June next year.
"The entrepreneurial spirit and bold efforts of these two men are to be applauded. Aspen Medical combines philanthropy with a service model that delivers affordable, efficient, and exceptionally high quality health solutions.
"As businesses and governments respond to previously unimaginable levels of disruption, entrepreneurship has never been more important to our future.  Recognising the contribution of leading entrepreneurs and empowering them to innovate is key to EY's purpose of building a better working world," Mr Johnson said.
"EY Entrepreneur Of The Year is much more than just an awards program – it's an opportunity for participants to embark on a lifelong journey with a network of like-minded and talented program alumni.
"It's part of EY's long history of nurturing and supporting the entrepreneurial spirit and enabling individuals to take risks and deliver a vision which could make a positive difference to us all."
Ends