Bosch Australia is large Manufacturer of the Year
BOSCH AUSTRALIA has been named Large Business Manufacturer of the Year in the Victorian Manufacturing Hall of Fame Awards, just as the company celebrates 110 years in Australia.
Bosch Australia manufactures about 20 percent of global automotive diodes and supports other Australian manufacturers through its capabilities in making special purpose machines.
The Victorian Manufacturing Hall of Fame Awards, staged at Crown Palladium in Melbourne in May, were hosted by the Victorian Industry and Employment Ministry and the Victorian Chamber of Commerce and Industry.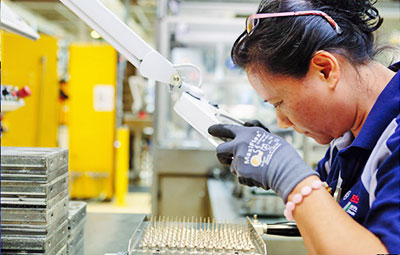 The awards recognise outstanding achievements by local businesses and individuals across manufacturing and innovation in the Victoria region and beyond.
"Congratulations to the Bosch Australia manufacturing team for taking out the award for Manufacturer of the Year," Bosch Australia president, Gavin Smith said.
"Our team has done a great job over an extended period to ensure our ongoing competitiveness and innovative strength. This award is recognition of that hard work and dedication."
In 2017, Bosch Australia manufactured about 120 million automotive power diodes, all of which were exported. Bosch has made significant investments in manufacturing for the global automotive sector including A$8.5 million to increase diode production capacity in 2018.
Bosch Australia's Manufacturing Solutions business, established in 2015, now supplies special purpose machines, manufacturing equipment and services to the Australian manufacturing sector and overseas.
In 2017, Bosch celebrated 110 years of activity in Australia and is investing in future oriented technologies including the Internet of Things, the Factory of the Future, Automated and Connected Mobility and a new initiative, Learn@Bosch, an outreach program to spark enthusiasm for science, technology, engineering and mathematics (STEM) with primary school students.
Bosch has had a presence in Australia since 1907, opening its first wholly-owned subsidiary, Robert Bosch (Australia) Pty Ltd, in 1954. The company was set up in Stuttgart, Germany, in 1886 by Robert Bosch (1861-1942) as what he called a "workshop for precision mechanics and electrical engineering".
ends