Electronics innovation driven through ARC
AUSTRALIAN Research Council (ARC) chief executive officer Sue Thomas believes a new ARC Centre of Excellence will help to boost Australian manufacturing through accessing innovative research into ultra-low energy electronics.
The ARC Centre of Excellence in Future Low-Energy Electronics Technologies (FLEET), led by professor Michael Fuhrer, was officially launched at Monash University recently. Monash University is receiving $33.4 million over seven years under the ARC Centres of Excellence scheme.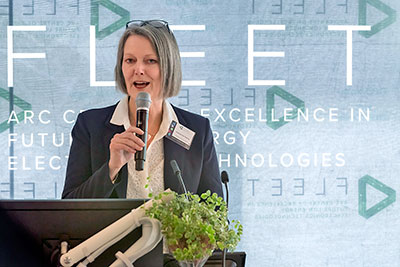 Professor Thomas said researchers at this Centre of Excellence were collaborating with other researchers and partners around the globe to develop a new generation of ultra-low resistance electronic devices.
"This ARC Centre of Excellence will focus on addressing the global challenge of reducing the energy used in information technology and computation, to develop revolutionary electronics and communications technologies," Prof. Thomas said.
"More efficient, low-energy electronics technologies and devices are critical to the future of computing and communication, to address the limitations of present technology.
"FLEET will develop novel methods of resistance-free electronic conduction that will meet the growing demand for computation that can operate at ultra-low energy consumption," she said.
"Working collaboratively with other participating universities and its Australian and international industry partners, the Centre of Excellence will equip the next generation of researchers with the skills and industry experience to lead this field into the future," Prof. Thomas said.
The Centre of Excellence led by Monash University is working with six other key universities: University of New South Wales; The Australian National University; RMIT University; Swinburne University of Technology; University of Wollongong; and The University of Queensland. It is also partnering with the National University of Singapore; Max Planck Institute for Quantum Optics, Garching, Germany; Australian Nuclear Science and Technology Organisation (ANSTO); California Institute of Technology; University of Maryland; Johannes Gutenberg Universitaet Mainz; Columbia University, New York; University of Colorado, Boulder; Tsinghua University, Beijing; Synchrotron Light Source Australia Pty Ltd; University of Wuerzburg, Germany; University of Texas, Austin; and Joint Quantum Institute.
ends