Call to arms for Australian business
AUSTRALIAN companies are being invited to join forces with Defence contractor Raytheon to participate in the new Short Range Ground Based Air Defence project.
Defence Industry Minister, Christopher Pyne has launched Raytheon Australia's LAND 19 Phase 7B Supplier Portal in a bid to get more local companies involved. He said the portal would allow Australian companies to register interest in areas such as component manufacture, assembly and test, systems integration and in-country sustainment.
Worth up to $2 billion, the project will deliver Army's future Short Range Ground Based Air Defence (SRGBAD) capability based on the proven National Advanced Surface to Air Missile System (NASAMS) which is fielded in seven nations, including the United States.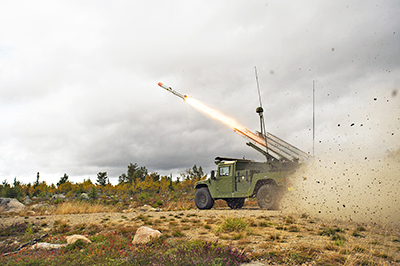 The system provides ground based air defence against fixed wing aircraft, helicopters, cruise missiles and unmanned aerial systems.
"We want to create as many local jobs as we can and Raytheon's response has a strong focus on identifying opportunities for Australian companies to participate in the project," Mr Pyne said.
"This portal is the first step in engaging local industry, in particular, small and medium enterprises, to develop the partnerships needed to deliver a world leading SRGBAD capability.
"It's fantastic the process will also identify export opportunities for Australian companies to support future NASAMS programs internationally as part of the global supply chain."
Defence and Raytheon are already investigating mounting missile launchers on Thales' Australian made Hawkei vehicle and using Canberra based CEA Technologies' radar.
Raytheon will conduct a series of industry showcases in every capital city later this year. This will give companies which have registered on the portal the opportunity to discuss their capabilities with Raytheon.
The cut-off date to register on the portal is October 25.
Capital city meeting dates will soon be released..
https://supplierportal.raytheon.com.au
ends