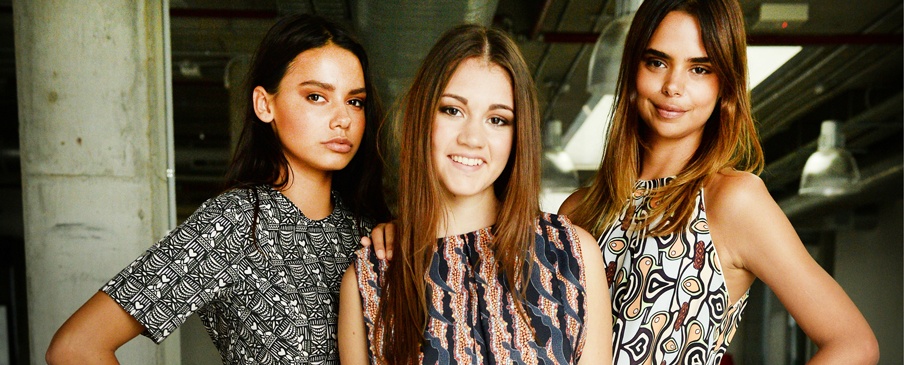 INDIGENOUS artists combined with current and alumni fashion designers from the Queensland University of Technology (QUT) Creative Enterprise Australia (CEA) Fashion Incubator Program to steal much of the limelight at both the Mercedes-Benz Fashion Week and Australian Indigenous Fashion Week shows earlier this year.
The AKIN Collection was developed in conjunction with CEA's Fashion Incubator designers and indigenous artists. The full collection was on show at Indigenous Fashion Week along with new work by Tatum Stanbury, recipient of CEA Indigenous Fashion Design Scholarship.
Hayley Elsaesser is currently working in the CEA Fashion Incubator and her vibrant Redneck Nostalgia collection was also shown. 
The AKIN Collection was produced under the fashion label, Multistory, created by the CEA Fashion Incubator to launch and sell in-house collaborative fashion and design projects.
Multistory's AKIN Collection was produced as part of the Contemporary Indigenous Fashion Project, funded by Arts Queensland through the Backing Indigenous Arts program to bring the work of Indigenous artists to the attention of the fashion industry.
CEA Fashion Incubator Stitch Lab client, Gail Sorronda, collaborated with Disney and Queensland Ballet to create a new collection inspired by The Little Mermaid for the coming season. 
Both Ms Elsaesser and Ms Sorronda are QUT Fashion alumni.
Australian Indigenous Fashion Week is a new event on the fashion calendar that aims to showcase the creative talents of Aboriginal and Torres Strait Islanders from all over Australia.
See Hayley Elsaesser's collection at Mercedes-Benz Fashion Week.
See Gail's Sorronda's collection at Mercedes-Benz Fashion Week.
Pictured are Australian Indigenous Fashion Week ambassadors all wearing AKIN dresses, from left Lilla Conradson wearing the Comb-print dress created by Hayley Elasesser and Sharon Phineasa; Indigenous Model Search finalist Sinead Grehan (centre) in a Bushfire-print created by Margaret Mara and Samantha Delgos; and  Samantha Harris wearing the Cassowary-print dress created by Napolean Oui and Georgia Grainger. Image from QUT: Dan Himbrechts, AAP.
ends