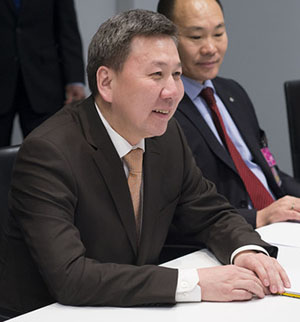 MONGOLIAN Foreign Minister Luvsanvandan Bold negotiated a five-year, $20 million Australian support program to assist the sustainable development of the nation's resources sector on his recent mission to Australia. 
It was the first visit to Australia by a Mongolian Foreign Minister in 20 years and it concluded a range of co-operation agreements between countries, opening the doors for Australian companies.
Australian Foreign Minister Julie Bishop said the $20 million Australia-Mongolia Extractives Program would utilise Australian expertise in Mongolia to help ensure the benefits of the mining sector were spread across its entire population.
"Like Western Australia, Mongolia's economy is driven by mining and resources," Ms Bishop said. "Whether in Australia or Mongolia, private-sector led growth is key to a growing economy."
Ironically, there were parallels with current Australian domestic policy that resonated in the resources sector, such as the taxation of mining.
"Releasing Mongolia's fledgling mining industry from a failed mining tax has greatly benefited the economy," Ms Bishop said.
"Australia is pledging to support the Mongolian Government with financial assistance and expertise that will improve governance in the mining sector, opening their economy up to international investment and development opportunities.
"The program will also improve access to technical and vocational education and training in disadvantaged communities in Mongolia so they are better equipped to gain employment in the mining industry."
One of the highest profile commercial partnerships operating in Mongolia at present is Rio Tinto's investment in Oyu Tolgoi.
The Australian Government's existing $5 million partnership with the World Bank is also helping to strengthen management of groundwater resources in the southern Gobi region, Ms Bishop said.
During the visit last fortnight, Foreign Minister Bold also signed a Memorandum of Understanding on Consular Cooperation.
ends