Australian invention Bluechiip safely monitors medical samples in stasis
By Leon Gettler >>
BLUECHIIP is an unusual company that has created unique and patented technology combining secure wireless sample tracking with integrated temperature reading, for use in extreme environments.
It is a technology that wirelessly tracks the identification and temperature of valuable samples, such as tissue, blood, serum and plasma, which are used in research, developing drugs, in vitro fertilisation (IVF), and viral therapies, all stored in environments such as liquid nitrogen. These materials are put into stasis and stored for a long time.
It is a unique and patented technology built into a Micro-Electro-Mechanical Systems (MEMS) unit which works in harsh and aggressive environments of minus 196 degrees Celsius.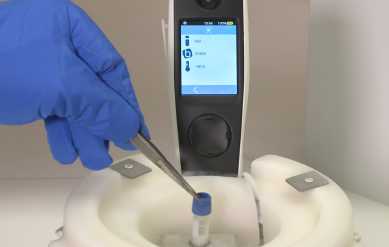 Typical electronic devices and radio frequency identification (RFID) technology cannot operate at those temperatures. The technology for Bluechiip devices also survives sterilisation which is important for the tracking of such materials.
The end customer for Bluechiip would typically be IVF clinics, pharmaceutical companies and researchers – but that is a broad market – so the target markets for Bluechiip are original equipment manufacturer (OEM) partners which make the consumables, such as blood bags and plastic tubes, that already have a captive market and distribution channels.
The Bluechiip tracking system in the form of MEMS, can read the samples rapidly, even through frost. It can also be moulded into any plastic.
Bluechiip devices are sterilisation resistant, including from gamma radiation. This reduces human error and increases productivity.
Bluechiip also has a multi-sample or multi-viral reader which allows users to read up to 100 samples at once. In these extreme temperatures, the micro-electro-mechanical device will read the sample where a barcode or RFID won't work.
Without the Bluechiip micro-electro-mechanical device, the user would have to use their finger, or thaw the sample, which is a productivity issue.
IN DEMAND: US AND EUROPE
The technology was developed in Melbourne and has been patented across jurisdictions including the US and Europe and Bluechiip is moving into Asia.
Bluechiip managing director Andrew Maclellan said the company's major market is North America which accounts for 40 percent of the global market. Europe is the next major market, which is at 30-35 percent. The company is also moving into Japan and China.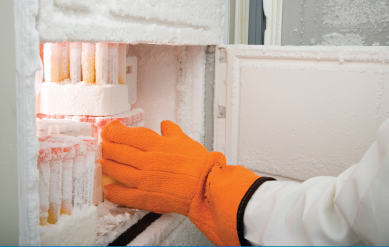 Mr Maclellan said major customers include vial manufacturer Labcon North America, which manufactures 1.5 billion consumables a year for the life sciences sector.
He said while there were a number of other industries Bluechiip could target, such as food production, it was now focusing on the bio-preservation market.
"We know there are a number of associated industries we can enter but for us it's about securing our target market, we maintain a strong focus," Mr Maclellan said.
"When we're talking about 300 million-plus samples going into store, and for us each of the chips that we place in there is best to think around $1, so we value our market at around $200 million.
"So if we can penetrate that bio-preservation market and get a good share there, we can run into the delivery of tens of millions of chips a year into that market place – we have a good launching pad to enter into adjacent market places."
And as he pointed out, Bluechiip is the only company that can identify the sample in those harsh environments.
"There is no other technology that can do what we do," Mr Maclellan said.
www.leongettler.com
Hear the complete interview and catch up with other topical business news on Leon Gettler's Talking Business podcast, released every Friday at www.acast.com/talkingbusiness.