National collaboration on economic development? Take it as RED ...
THE REGIONAL Economic Development Toolbox – an online platform which has only gone live in 2017 and whose partners have already dubbed it the RED Toolbox – appears to be the game changer Australia needs to accelerate sustainable regional growth.
That may seem a bold statement for such a recent innovation, but it is winning that kind of endorsement from business leaders engaging with it now.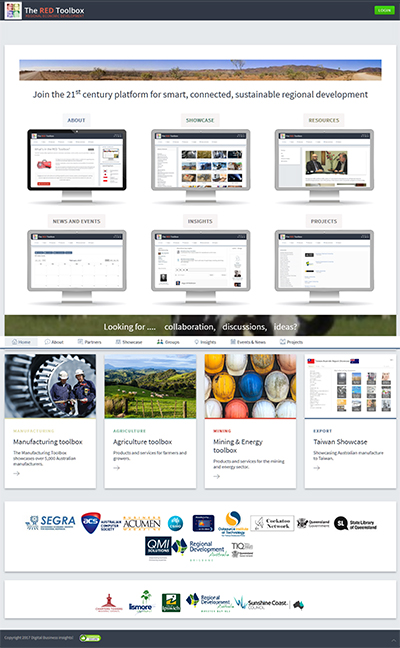 The Regional Economic Development Toolbox is what it proclaims – a digital toolbox for the growth of Australian economies that all sorts of skilled people can dig in to, using its components to fix local problems and engineer for the future.
The RED Toolbox is a tool set, a knowledge library, a roundtable discussion venue, a business events resource, a news magazine, a blogspot for more than 100 invited business and academic experts – and something extra: a trade showcase for best-of-breed and innovative Australian products and services, designed to lift export opportunities.
It is looking like a genuine Australian national economic and business development collaboration platform … although what such a thing should look like is difficult to say, for nothing of its kind has ever been created before.
Australia's RED Toolbox is, as far as Business Acumen can tell, something unique in the world.
It simply looks like what its creators – the Brisbane-based Digital Business insights (DBi) team and its growing list of collaborative partners –  have made it into.
Shaped by open-source software, much of it Australian, and engineered by DBi technical director Geoff Grantham, the RED Toolbox is the culmination of more than 15 years of research into Australian adoption of technology by business. It is underpinned by more than 50,000 company surveys and industry reports by DBi and 300 deep case studies on leading Australian businesses.
"The RED Toolbox has no fixed prescription other than fulfilling its purpose: to energise, equip and connect business development and, hence, job creation across Australia," DBi CEO John Sheridan said.
It is something elastic and responsive to the real needs of Australia for regional economic development, because Mr Grantham and Mr Sheridan have designed it that way.
Now they are plugging in experts, business leaders, government departments, councils and knowledge brokers right across regional Australia, whose contributions are leading the platform in necessary new directions and giving it practical form. 
Foundation partners include Regional Development Australia, CSIRO, SEGRA, ACS, Outsource Institute of Technology, State Library of Queensland, Queensland Trade and Investment and media partner Business Acumen magazine.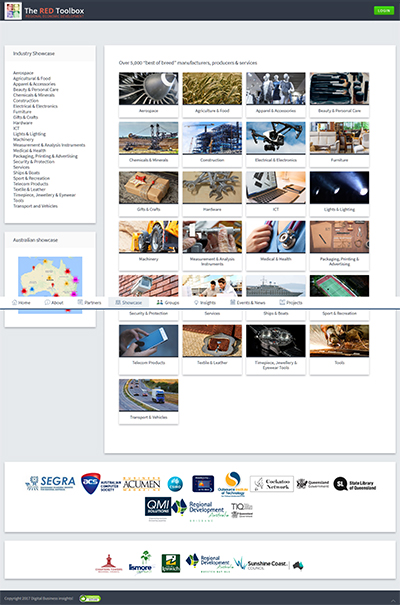 "As the RED Toolbox develops and more people come on board, particularly regional councils, there will be projects created and results from those projects that other regions around Australia will learn from and be able to adapt this knowledge for themselves," Mr Sheridan said.
"What we have done, based on our research, is figured out what was missing in terms of connected economic development in Australia and provided a digital platform to present the tools and connect people in a way that has never been done before. At its most basic, I guess this is a business development resource that is made more powerful by the fact that it connects businesses that need something with other local and national businesses that can provide what they need.
"The custom of taking recommendations by mates more seriously is alive and well in Australia and this is like a digital meeting place for mates you may not have physically met yet, but whose recommendations you value and trust," he said.
Elements of the RED Toolbox make it more than the sum of its parts – and there is more to come.
SO FAR, IN THE TOOLBOX
The RED Toolbox opens the lid on tools that connect business people around Australia to knowledge and networks that can accelerate business development.
The key toolbox compartments at this stage are the Showcase, Groups, Insights, Events & News and Projects. Mr Grantham said there is even more capability built in to the toolbox that will be turned on as it matures, determined by user feedback, including a unique meld of online learning platforms.
Some compartments in the RED Toolbox are able to be locked, for the benefit of specific subscriber and user groups, but most of the platform is open to view by the public. To open up some areas of the toolbox and participate, people must register – but it is free.
The platform is funded by its users who subscribe or partner depending on their level of involvement. Most businesses are drawn to a RED Toolbox subscription by the Showcase, which has a curated foundation of 5000 best-of-breed Australian companies drawn from DBi's extensive research. Participation in the Showcase is free, but other paid subscription levels allow companies to upload more information, including images, audio and video.
The Showcase is being developed as a place where the world can find the best products and services Australia has to offer. Working with trade authorities such as Trade and Investment Queensland (TIQ) and Austrade, the Showcase provides a basis for creating tailored country-specific Showcases that will provide an international outreach platform linked to trade missions and international business events.
"The Showcase has already been used to solve problems for several businesses in Australia," Mr Grantham said. "A Queensland pizza chain told us they used it to find a list of local cheese suppliers that they approached directly, when cheese prices were raised dramatically by a wholesaler in early 2017. They were able to secure supply at the right price and have built a relationship with the Victorian farm that has paid off for both parties.
"They did not even know of each other before. These are the kinds of outcomes I think we can expect to see regularly from the RED Toolbox."
GROUPS
The Groups area is a series of flexible discussion rooms where business people, experts, academics, local councils and government departments can gather to outline and discuss issues and challenges. Some of these groups are invitation only, depending on the environment needed for frank discussion.
"This has been set up in this way because some projects, for example, may need to have a closed loop of people able to chat freely and securely," Mr Sheridan said. "The 'owner' of each project area – which we expect to be mainly councils – decides how each project operates and can invite people into various groups associated with each project."
Company partners and not-for-profit groups can create their own groups as both a gathering point and a communication platform for collaboration.
Government bodies who subscribe can create an unlimited number of groups and these may have set lifespans linked with the problems they are set up to solve, or the projects they are associated with.
"Groups work in a similar way to major social media platforms and most people will find familiar options available – Profile, Activity Timeline, Discussions, Files, Members, Feeds, Announcements and the ability to invite users from the RED Toolbox or invite people from other platforms, publish to other platforms, and keep members up to date by notifications on the platform and via email," Mr Sheridan said.
"Anybody can sign up to the RED Toolbox and join groups, but only partners can create groups. Council, RDA and corporate partners can create many groups. Small business and not-for-profit partners can create one group per organisation."
Mr Sheridan said groups were created under four headings: Sectors, Regions, Issues and Projects. Groups can be open, closed or invitation-only. Signed-up users can see and join open groups, and can ask to join closed groups.
Groups already exist for RDA Brisbane, Narangba Innovation Precinct, SEGRA, North Burnett Region, Geelong Regional Development, Assistive Technologies and the RDA's Click! Digital and Business exhibition and conference.
INSIGHTS
The RED Toolbox Insights area is a platform for bloggers, expert authors, researchers, business leaders and industry advisers to share ideas and concerns. So far, about 120 blog authors have been invited and accepted onto the RED Toolbox, several of them international authorities on specific aspects of economic development.
Insights is currently organised into the key subject areas of Regions and Tourism, Future of Work and Jobs, Regions and Energy, Regional Projects and Ideas, Exporting Regions, Regions on the Move, Regions-The Big Picture and Adding Value By Design. 

"A key aspect of having these expert commentators involved is that we can direct their observations into the communication stream of specific groups and projects as a way of enhancing discussion and, hopefully, problem solving," Mr Sheridan said. "Likewise, Groups and Projects and other participants in the toolbox can direct information or questions to these experts for comment.
"We think the sharing of these discussions, projects and proposals will help to supercharge activity throughout Australia. This just has to result in practical progress. I believe this is the first time something like this has been done anywhere in the world.
"The RED Toolbox introduces this joined-up approach and methodology, utilising the digital revolution in new and positive ways to benefit Australians. That is what we are all about."
PROJECTS
The Projects section of the RED Toolbox is where the rubber really hits the road.
"This is where communities or industries or even companies can gather to develop a project, opening it up for discussion – or even advice – and perhaps funding, to the rest of Australia," Mr Sheridan said.
The first project on the site is the community-led North Stradbroke Island economic transformation program, which is being branded 'Minjerribah Fresh', adopted from the Indigenous placename for the island. It is regarded as a benchmark for other projects to come.
According to the project launch report, which also kicks off in the RED Toolbox Projects area, North Stradbroke Island is in economic transition with the closure of sand mining operations by 2019. This project is a community-led approach to re-setting the island's economy for a sustainable and growing future through new agribusiness development which will also lead to new opportunities in tourism.
The Minjerribah Fresh project is underpinned by a structural change in organic waste management on the island, managed by Redland Shire Council, to develop community agribusiness projects.
"These projects will provide employment and create a new market for local produce that will enhance tourism and develop the island as a unique organic culinary destination," the report noted. "As the project develops, local creative entrepreneurs are expected to emerge who will find new ways to add value.
"The creation of locally-branded food and beverage products are sure to emerge and it may be possible to cover-brand all such products from North Stradbroke Island as, for example, 'Straddie Fresh' or 'Minjerribah Fresh'."
The RED Toolbox Projects section will include news of projects – past and present – will track the development of projects from idea to completion, and provide a place for partners to collaborate and share.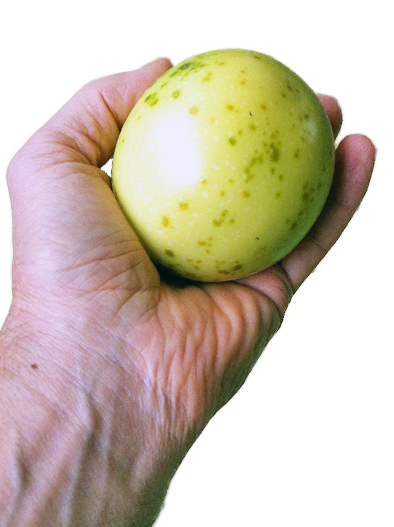 "Partners can suggest ideas for projects designed to help regions and communities," Mr Sheridan said. "Ideas can be posted and partners can offer to contribute to a project in some way – experience, material, funding or project management.
"Once the project is supported it will be completed, with every stage of the project being documented and reported to partners expressing an interest in the project theme. Completed projects will be placed into a project library, which partners can access for their own region."
The Projects will also be communicated to the broader Australian business market and internationally through Business Acumen magazine's print and online resources.
The Events area of the RED Toolbox is also a revelation. It will effectively become the most comprehensive business events resource for Australia, with national and international events drawn from the reporting resources of Business Acumen magazine and, on top of that, the platform provides the capability for partners and business-level subscribers to promote and manage their own events through the calendar.
These can range from national and international exhibitions and conferences to internal business events to project meetings, Mr Sheridan said.
"Again, this is something that has never been done before, anywhere in the world, in a joined-up way, as far as we can find," he said.
"Talking about collaboration and working together, and doing it are different things. There are lots of words and discussions … but little action. That is why we built the RED Toolbox.
"It is a platform for discussion. A platform for action. A platform for collaboration. A platform for joined up thinking. A platform to support productive industries.
"The RED Toolbox is the kind of economic game changer that Australia really needs right now."
ends