Open and shut cases: Hog's deep breath on restaurants' futures
By Dan Hadley >>
ADELAIDE restaurant goers were disappointed to discover recently that one of Australia's most iconic steakhouse chains, Hog's Breath, had closed its South Australian doors and that the SA division had gone into administration
It follows an early May announcement by Hog's Breath Cafe management that it would close their Coolangatta restaurant on the Gold Coast, after being forced into administration recently.
Furthermore, these closures follow just weeks after the Indooroopilly Queensland restaurant closed its doors. Restaurant goers nationwide have been left wondering if their favorite Hog's Breath outlet is next.
The buzz on social media has seen a number of very upset Hog's Breath fans left disappointed and asking 'why?'
Indeed, these closures also mean the loss of employment for a number of staff across the country, some having worked for Hog's Breath for years.
Previously known as 'Hog's Breath Café' and 'Hog's Breath Saloon', the iconic steakhouse chain started in 1989 in Airlie Beach Queensland with the first outlet opened by Don Algie. Only a year later a second store opened in Mooloolaba.
Later outlets began to open in Cairns, Townsville and Darwin. As the company grew, most states in Australia began to enjoy the signature 18-hour slow cooked prime rib and unmistakable steaks. By 2011 the Hog's Breath Company expanded overseas and opened 75 Hog's Breath Cafes over a 20 year span, which includes Thailand and Singapore.
So how does a household name restaurant chain like this begin to fall?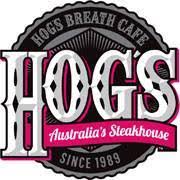 Reports through social media from ex staff members and suppliers point towards poor fiscal management.
Additionally, franchise chains can sometimes suffer from a disconnect between franchise management as well as support and the front-of-line franchise outlet serving the public.
These models are designed to facilitate strong growth, uniformity in product and brand as well as provide a combined buying power for the individual franchise owner. Where disparities and efficiencies are lost, individual chains can collapse and this may have a domino effect on other chains, particularly where finance has not been managed properly.
But there is a chance the company may be able to breathe life back into this Hog, as the company has been working with creditors in order to hold on to existing stores and, hopefully, reopen those lost.
Recently, the company announced the return of its Glenelg store in South Australia.
A spokesman for liquidators Heard Phillips indicated that the franchisor and landlords of the two properties were in conversation "in the hope that (both restaurants) will open again in the near future," according to a report in the Advertiser newspaper.
Other recent announcements indicated that the company was keen to hire as many previously employed staff as possible and this might return hope to those workers who had been left without work.
This announcement also provides a small glimmer hope to Hog's Breath lifetime VIP members, known as Hog Squad members, who have previously paid a fee for a lifetime membership with the chain that allows ongoing lifetime discounts and benefits nationwide. The definition of 'lifetime' now clearly being called into question.
On a personal note, one hopes that this chain can recover and thrive again. Many Australia families will have memories of dinners, birthdays and other celebrations at Hog's Breath since the late 80s and it would be a shame to see another iconic Australian brand be roasted, slowly or otherwise…
Dan Hadley, MBA, BComm, IMC is a British-Australian economist and management consultant for JLB based in Adelaide, South Australia.
ends