Aussie thongs innovator rebrands as Boomerangz
GOLD COAST-BASED Willi Footwear – whose double-plug thong designs have won acclaim from hundreds of thousands of loyal Australian customers – is re-branding to expand into global markets as 'Boomerangz'.
The name stems from the boomerang-shaped plugs that are employed to solve an age-old problem that wearers of Australian thongs have dubbed 'the blowout' – the strap plugs disengaging through the rubber sole.
The idea that came to creator Brad Munro, as he dealt with a busted thong many years ago outside a German pub, is now set to become a global business under the new brand.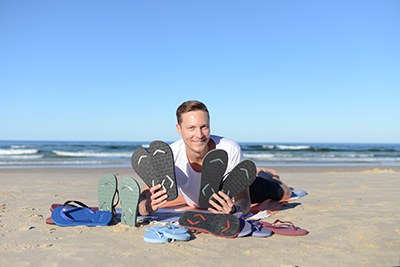 Mr Munro saw the need for a better-designed 'plugga' and in 2014 launched an IndieGoGo crowdfunding campaign to get his vision off the ground. The idea resonated and a wildly successful campaign allowed Mr Munro to launch his revolutionary design with boomerang-shaped plugs that greatly minimise the odds of blowouts.
Launched as Willi Footwear, the business has grown almost 100 percent year-on-year with no signs of slowing down. After gaining considerable market share and a loyal fan base in Australia, the business has its sights set on global expansion.
However, facing trademarks issues in the US with founding name, Willi, the rebrand as Boomerangz is believed to better communicate the company's roots through both the distinctive Aussie emblem, as well as the revolutionary design of its boomerang-shaped plugs.
Mr Munro said Boomerangz 'flip flops' are now available for purchase in the US where he has established relationships with many retailers, including Amazon, and opened a distribution site in Florida. They are also available in the UK and are being trialled in Indian and Chinese markets, as well as the Caribbean.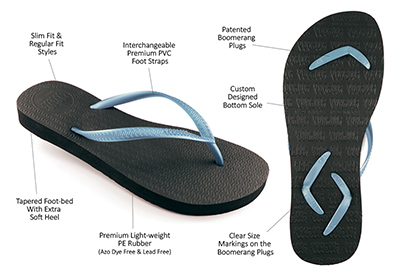 Mr Munro said it was costly exercise to explore international markets but he hoped to continue this upward trend and have the product available to consumers worldwide.
"We know from research that thong blow-outs are a worldwide complaint, it's not an issue that's exclusive to Australia, so we see our range as a global product," Mr Munro said.
"It's also a seasonal product, so we really do need to leverage off the northern hemisphere summer in order to create a year-round income and be able to continue production."
Mr Munro said despite the global push, Boomerangz has not forgotten its loyal Australian market. A new deal with City Beach has landed the brand in a further 20 locations across Queensland, NSW and the Northern Territory, and Boomerangz is also introducing a new range of interchangeable upmarket women's sandal straps.
The footwear brand is also working with a new factory to improve further on rubber quality in its products "to ensure there will be even happier feet this summer in Australia, and across the globe" Mr Munro said.
He said Boomerangz had a market advantage in the way its products minimised the common problems of other brands of flip flops on the market. Boomerangz patented boomerang-shaped plugs help prevent the straps from snapping, as well as give the ability to easily change the straps to different colours, accommodating a market that is increasingly looking for customisable options.
ends