Lead on, Brisbane innovators
WINNERS and finalists in the 2016 Brisbane Lord Mayor's Business Awards would clearly be included in any list of Queensland – and Australia's – most innovative businesses.
From Australian Country Choice – the Optus Business Platinum Award winning company whose products feed 7.1 million Australians a day – to trampoline company Vuly Trampolines whose unique designs have been hailed as the sport's safest products in the world, the awards were a showcase of Australian innovation.
In fact, Vuly Trampolines' founder, Joe Andon, was named the Channel 7 Business Person of the Year in recognition of his innovative approach to business development and his 'inspirational' business energy. Or, as Mr Andon put it on the night, when you are creating something new a keep going back to the drawing board to make it better every time, "you have tough days … and you have tougher days".
Mr Andon, who founded Australia's leading trampoline manufacturer at the age of 19, received his award from Seven's Queensland general manager, Ben Roberts-Smith, a former SAS trooper and VC winner who has been an innovator in his own transition from military service to the frontline of the highly competitive television industry.
Brisbane Lord Mayor Graham Quirk said, "At just 27, Joe already exemplifies the type of business leader who has helped place Brisbane squarely on the world stage as Australia's New World City. Joe started his business from his childhood bedroom and has turned it into one of Australia's largest outdoor play companies selling products worldwide.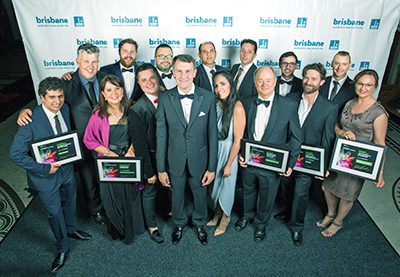 "In the process, he has revolutionised the industry by inventing and commercialising the unique leaf-spring drive system, as well as numerous trampoline accessories. Joe and Vuly are now recognized as global leaders in trampoline safety and aesthetic progress."
The most obvious place to find a Vuly Trampoline is at the SkyZone trampolining complexes, where Mr Andon's Vuly Fusion seamless trampoline systems reduced injury rates by 99 percent.
Mr Andon happened to be part of a trio of innovators who featured in the 2016 LMBAs who have transited through one of the state's renowned incubator communities, Little Tokyo Two. 
In fact the founder of Brisbane entrepreneurial community Little Tokyo Two, Jock Fairweather, won the LMBA Singapore Airlines Award for Young Business Person of the Year.
Mr Fairweather founded Little Tokyo Two as an entrepreneurial collective located in the heart of Brisbane. Mr Fairweather said it aimed to engineer "creative collisions" with industry and government.
Little Tokyo Two began life in Spring Hill in 2014 and recently launched its fourth site at The Capital, a Brisbane City Council initiative overlooking Queen St Mall.
Little Tokyo Two now has hundreds of members and has gained a reputation as Australia's fastest growing community of innovators, creators and entrepreneurs.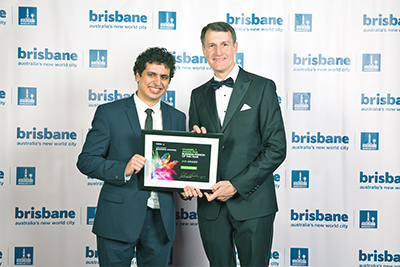 As a teenager, Jock Fairweather studied at the London College of Fashion and became a luxury shoe designer mixing with the likes of Jimmy Choo and other fashion elites. He sold his label to a Swiss Equity Conglomerate at 21 and remained as creative director before returning to Brisbane in mid-2014 and establishing Little Tokyo Two with friends.
To date 500-plus businesses have evolved out of the collaborative workspaces and his ultimate aim for Little Tokyo Two is to become the young business support system of South East Queensland, by continuing to open spaces and building communities in Brisbane and regional areas.
INNOVATION IN THE AIR
But there was one company which could clearly lay claim to being an innovation champion: EM Solutions. Tennyson-based EM Solutions was chosen over six other world-class local businesses in the Brisbane Times Award for Business Innovation category.
EM Solutions clients include defence forces, maritime operations and corporations around the world as well as the New York Stock Exchange. Its new Cobra on-the-move satellite communications terminal provides the world's most robust stabilised platform capable of accurately pointing the antenna to a geostationary satellite while the terminal itself is moving on either sea or land. It can automatically transmit on different frequency bands and satellites to overcome congestion or weather impacts.
EM Solutions also designs products for its subsidiary company EMClarity, which markets very high speed microwave backhaul radios for telecommunications carriers. The company is spearheaded by former Australian Institute for Commercialisation CEO, Rowan Gilmore, with founders John Ness and Peter Bradley.
Another hi-tech group which has been making waves nationally and internationally, RedEye, won the ANZ Made in Brisbane Award for a High-Growth Business Start-up. Established in Brisbane by Wayne Gerard and Randall Makin, RedEye is now one of Australia's fastest growing start-ups with an expanding global footprint.
Accepting the award, Mr Gerard said he was astounded by the breadth of talent and innovation in the award winners and finalists, remarking "Brisbane is really a great place to grow a start-up".
In RedEye's case – with the company describing itself as the first software business to make engineering data truly mobile – Mr Gerard said it was astonishing that the business had grown from nothing to an international group "with 33 people in jobs" in under four years.
Mr Gerard said the RedEye mission is to 'reinvent the way people work' via cloud-based solutions to help asset owners and their service providers improve productivity and safety, while reducing business risks and costs. In 2016 the company launched its workforce mobility solution, which can be used by professionals in any industry or sector.
'TRADITIONAL' INNOVATOR
Australian Country Choice (ACC) CEO David Foote summed it up as he accepted the Optus headline Business Platinum award, noting that even though he lead a traditional company in a 'traditional industry' – and it may have developed in a traditional way through "one owner, one bank and one city" – but ACC has done so by innovating as constantly and furiously as any technology start-up.
Mr Foote said success came through innovation and innovation came through the Reed family, owners of ACC "pushing, pushing, pushing". The company is now acknowledged as the world's largest vertically integrated beef food chain and, even as he accepted second award, the HSBC Award for Doing Business in Asia, Mr Foote said more than 570 staff were at work, packaging a carton of meat every three seconds.
Australian Country Choice (ACC) is part of the Lee Group Pty Ltd, a private family owned enterprise which commenced in Queensland as H.J. Lee and Sons in 1958. It now has headquarters in the Australia Trade Coast precinct under the stewardship of Trevor Lee and fourth generation family members.
Employing over 1400 staff, ACC has around 270,000 beef cattle grazing on 2.5 million hectares of land across 15 Queensland locations. They are transported to one of the company's three feedlots before being processed at the innovative Cannon Hill beef facility.
ACC products feature in major supermarkets across Australia' and are increasingly to be found in the retail and food service sectors across the major cities of North Asia.
"The Lord Mayor's Business Awards have become a benchmark for the excellence, success, innovation and entrepreneurial flair that are the hallmarks of Brisbane's business community," Cr Quirk said. "These are the businesses and individuals that play a critical role in fostering Brisbane's reputation as a hub for innovation, investment, education, conventions and tourism in the Asia Pacific region." 
Award winners and finalists in the 2016 Brisbane Lord Mayor's Business Awards were:
ANZ Made in Brisbane Award for High-Growth Business Start-up
Winner: RedEye.
Finalists:
Conweigh
Entersoft
Happen
Haystack Australia
Like a Photon Creative
PetCloud
Prettygreat
RedEye
HSBC Award for Doing Business in Asia
Winner: Australian Country Choice
Finalists:
Brisbane Airport Corporation
Charlton Brown
Domino's Pizza Enterprises
Brisbane Times Award for Business Innovation
Winner: EM Solutions
Finalists:
Domino's Pizza Enterprises
Like a Photon Creative
Scooter Tutor
Shelter Management
Vuly
Watkins Steel
Australia TradeCoast Award for Small Business Growth
Winner: FivePointFour Holdings
Finalists:
Global Sourcing Services
Point to Point Education
Tritium
Port of Brisbane Award for New Investment
Winner: Tritium
Finalists:
Daisho Co
DEXUS Property Group
Iglu
Richmont Hospitality
Clayton Utz Award for Corporate Citizenship
Winner: Stephen Dibb Jewellery
Finalists:
Datacom Systems
Queensland Rugby Union
Treasury Casino & Hotel
Energex Award for Sustainability in Business
Winner: Brisbane Convention & Exhibition Centre
Finalists:
Daisho Co
The University of Queensland
UnitingCare Queensland
ISPT Award for Digital Strategy
Winner: Tow.com.au
Finalists:
PetCloud
Shelter Management
Travel Money Group
Singapore Airlines Award for Young Business Person of the Year
Winner: Jock Fairweather – Little Tokyo Two
Finalists:
Edda Hamar – Undress Runways
Joe Andon – Vuly Trampolines
Jordan Duffy – Buckham & Duffy Consultants
Jordan Grives – Fonebox Australia
Penelope Twemlow – Energy Skills Queensland
Channel 7 Award for Business Person of the Year
Winner: Joe Andon, Vuly Trampolines
Finalists:
Andrew Gourley – Red Frogs
Ben Bradshaw – SponsoredLinX
Godfrey Mantle – Mantle Group
Jess Huddart – Josephmark
ends