PharmaData awarded for growth in Brisbane City awards
PHARMADATA was recognised as one of Queensland's fastest-growing niche technology companies in the recent Brisbane Lord Mayor's Business Awards (LMBAs).
PharmaData was awarded the Australia Trade Coast Award for Small Business Growth in the 2015 LMBAs, recognising the company's fast growth and its significant contribution to Brisbane's $146 billion economy.
A Brisbane-based company of 15 analysts, developers and customer care experts, PharmaData specialises in building data solutions for the pharmacy and pharmaceutical industries. PharmaData already caters to more than 10,000 users worldwide.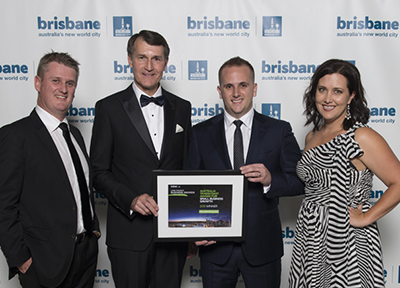 Chief technical officer Adam Gilmore and chief executive officer Guy Mckenzie said a focus on expert customer service and the company's dedication to bridge the gap of data solutions to pharmaceutical manufacturers was how PharmaData achieved an amazing 1800 percent growth in Australia and France in 2014-15.
"There are over 10,000 users we have provided with customised tools so they can analyse their difference of sales in real-time between a generic and brand prescription," Mr Gilmore said.
PharmaData software makes it easy for chemists to track sales and calculate the profit implications of utilising generic products in the sales mix.
"By becoming an integral part of their daily operations our dedicated user-experience team are constantly working with our users and it is great to see the hard work show results," Mr Mckenzie said. 
The Lord Mayor said the Australia TradeCoast award recognised PharmaData for its outstanding international growth by increasing its customer base by 1800 percent from 2014 to 2015 alone.
"The judges were particularly impressed with how, despite its global customer base, PharmaData has maintained a commitment to local operations, bringing jobs and income to the Brisbane community," Cr Quirk said. 
PharmaData's state mission is to "lead the way to the future of data intelligence" by changing the way data is used to boost profits and run more efficient businesses.
Mr Gilmore and Mr Mckenzie introduced PharmaData's system technology in 2011 – an industry first – after discovering pharmaceutical companies were relying on outdated data in their decision making processes.
PharmaData's software operates as a user friendly interface to track sales and illustrate opportunities for manufacturers, pharmacy managers and front-of-house staff – and all in real-time.
Mr Gilmore, Mr Mckenzie and their expert teams proactively follow world-wide legislation changes for generic drug manufacturers and remain at the forefront of intelligent pharmacy and pharmaceutical industry solutions.
ends