BreakFree: Christchurch's biggest hotel opened by NZ PM
CHRISTCHURCH has hit another milestone in its resurgence from the tragic 2010 earthquakes with the official opening of its largest hotel – the 264-room BreakFree on Cashel – by New Zealand Prime Minister and Minister for Tourism, John Key.
Mr Key, himself a Christchurch native, opened the hotel by checking in via the hi-tech hotel's online kiosk and taking a tour of the final wing of brand new level six executive rooms – so new that guests had yet to stay.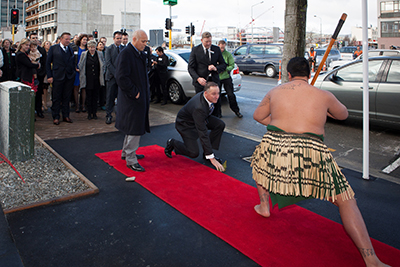 Breakfree on Cashel's opening is another significant tick for business travellers to the city, along with the China Southern Airlines plan to start direct flights from Guangzhou to Christchurch in December.
With the Christchurch skyline featuring a combination of new developments and restoration of former buildings and office towers, Mayor Lianne Dalziel said the city should now feel that it has "moved beyond recovery to regeneration".
"Developments like BreakFree on Cashel are crucial to inspire the confidence to invest in Christchurch and entice the return of visitors," Ms Dalziel said.
The $30 million project – which importantly developed the hotel for a Grade A seismic rating – makes an environmental and heritage statement through its interior showcasing recycled timber salvaged from Christchurch buildings demolished following the earthquakes, including timber from the old stands at the iconic Lancaster Park sports stadium.
The extensive refurbishment and redesign of the hotel has been underway since new owners – Auckland-based Russell Property Group and an investment partner – purchased the property in January 2014. Christchurch-based Dalman Architecture undertook the architectural and interior design elements. 
BreakFree on Cashel is the first use of its economy brand in New Zealand by Australia-based hotel management group Mantra.
Mantra acquisitions director Michael Moret-Lalli said it would set a benchmark for the economy brand's future CBD hotels.
"The hotel provides a glimpse of the future urban hotel design incorporating the important elements that make a great hotel – a clever use of space; comfortable quality beds; and seamless social spaces that integrate lifestyle and technology," Mr Moret-Lalli said.
ends