Australian tourism industry clings to financial lifeboats
THE AUSTRALIAN Tourism Export Council (ATEC) is doing what it can to help the travel and tourism industry focus on staying the course of the COVID-19 shutdown and prepare as best it can for a pared-back emergence from the current cold reality. Most are barely afloat.
International visitor results for March, released by the Australian Bureau of Statistics (ABS) "confirm that our once strong and vibrant tourism export industry is in crisis having dropped by more than 60 percent on the same month in 2019" said ATEC managing director Peter Shelley. For most, they only ray of sunshine is the Federal Government's JobKeeper program to assist staff to stay linked to their tourism businesses.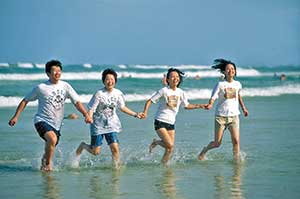 "A few months ago tourism was a rising star of Australia's export sector, bringing $45 billion to our economy each year, but now it's fallen to a pale imitation of its great past," Mr Shelley said.
"Just as we began to rebuild from the rubble of January's bushfires which saw mass cancellations from both domestic and international visitors, tourism businesses across the country were the first to be hit by the coronavirus, which has bought our inbound industry to a complete halt.
"We now work towards the opportunity of reopening some businesses to welcome domestic visitors on a phased timetable which will vary across the states. While this is a positive, many tourism and hospitality businesses will choose to remain in hibernation simply because essential social distancing requirements make it commercially impossible to open the doors.
"The reality is it will be 2021 before we see any sign of international visitors back on our shores and inbound tourism will be one of the last sectors of our economy to make it to the 'other side', sadly, with many tourism businesses and thousands of staff lost on the journey.
"The only bright light in the horizon for tourism businesses targeting the international visitor is the possibility of travel across the Tasman and our industry welcomes this opportunity with open arms," Mr Shelley said.
"These businesses are desperately hoping we can welcome New Zealand visitors before the end of the JobKeeper program in September, otherwise the many businesses who are desperately trying to survive will not be there to help rebuild the industry in the future.
"For the thousands of people have committed a lifetime to establish successful businesses working in the international tourism sector, the opportunity to welcome their first overseas visitors remains a distant thought, as our borders are expected to remain closed for many months," Mr shelley said.
"While there is a lot to look forward to as the dark days of the COVID fog lifts, we all hope the recovery will be quick and that governments across the country work in partnership with the industry to build back a better tourism industry which will thrive into the future."
www.tourismdrivesgrowth.com.au
ends