NSW investment in ICC Sydney keeps paying off
INTERNATIONAL Convention Centre Sydney (ICC Sydney) has released new figures revealing it has not only welcomed its two millionth visitor, but delegates and visitors attending events on site injecting more than A$1.2 billion into the local community since it opened in December 2016.
New South Wales Minister for Tourism and Major Events, Adam Marshall said the benefits continued to roll in as the A$1.5 billion ICC Sydney welcomed more than 65,000 visitors to the Sydney International Boat Show late last year – and those visitors were estimated to have spent a further $24 million in Sydney.
The largest recreational marine show in the Southern Hemisphere, the event featured 250-plus exhibitors and over 1,000 vessels across the venue's entire exhibition centre and a purpose-built marina in Cockle Bay.
ICC Sydney hosted the event for the second consecutive year, following the highly successful 2017 program, which attracted 3,000 more visitors than forecast and facilitated $250 million worth of business on site.
Since opening, ICC Sydney has hosted 1,100 different events, resulting in over 2.3 million overnight stays in Sydney accommodation.
Mr Marshall has applauded ICC Sydney for its contribution to the state's visitor economy.
"Conference delegates and event attendees at ICC Sydney have now spent at least A$1.2 billion in the NSW economy in just over 18 months," Mr Marshall said.
"This exceptional outcome is a clear demonstration of the extensive flow on benefits the NSW Government's investment in ICC Sydney is delivering."
ICC Sydney CEO Geoff Donaghy said he was proud to continue elevating Sydney's reputation as one of the world's most desirable business event destinations and drive visitation to the heart of Darling Harbour.
"We are delighted to host the esteemed Sydney International Boat Show once again," Mr Donaghy said. "It's an iconic event for the entire city and also an opportunity for us to showcase the diversity and capability of our venue, while helping to stimulate the local economy.
"I am also proud to welcome our two millionth visitor. This is an opportune time to reflect on our achievements to date, which includes garnering more than 30 awards and accolades."
Mr Donaghy said further key highlights included staging the ASEAN Australia Special Summit in a landmark occasion, hosting the 10th World Chambers Congress in Sydney for the first time last year and bringing the Reed Gift Fairs back to the heart of the city after three years absence, with a 23 percent increase.
With a raft of events set to take place in coming months, ICC Sydney is expected to continue its growth trajectory.
One of the highlights, he said, had been welcoming Sibos 2018, the world's largest financial services event, in October where 6,000 delegates generated up to $37 million in economic benefit for the state.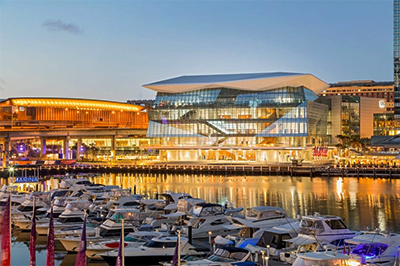 ICC Sydney also hosted 5,000 of the globe's leading accounting professionals at the World Congress of Accountants in November, shortly afterwards.
"Our clients' success is our success and we are focused on working in collaboration with them, our partners and visitors to deliver positive outcomes for all," Mr Donaghy said.
"We are committed to attracting the world's leading thinkers and innovators to Australian shores to cultivate powerful long term economic and cultural benefits that are felt in the community long after their events take place at ICC Sydney."
ends