RiverPitch Live Sydney gives 10 startups a shot at investors
THE RiverPitch Live event series took place for the first time in Sydney on June 27 at the Sydney Startup Hub, giving 10 innovative early-stage companies a platform to attract vital investment in Australia.
After a successful RiverPitch series in Brisbane, powered by River City Labs and followed by a television series, RiverPitch Live Sydney welcomed a guest list of investors, startup industry professionals and the technology startup community.
Ten teams were selected to pitch on the night to an audience of more than 100, including pre-screened investors.
"It was our first time presenting RiverPitch Live in Sydney, we had high expectations of the Sydney market," ACS Labs CEO Peta Ellis said. ACS Labs operates Brisbane's River City Labs, Sydney's Harbour City Labs and Melbourne's Bay City Labs.
"The goal was to deliver the same value as our previous Brisbane RiverPitch events for startups and investors and to provide a strategic and direct approach to capital raising" Ms Ellis said.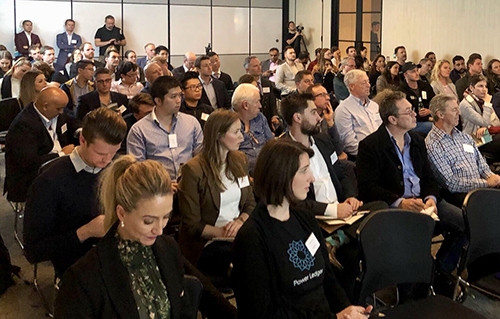 "It was great to see the Sydney community of startups and investors come out to support us in our first official event powered by Harbour City Labs. We look forward to delivering RiverPitch events in Sydney as our commitment to facilitate greater levels of investment in Australian startups."
Teams presenting on the night included Robert Bate's Swarm Farm Robotics. A farmer from Emerald and founder of Swarm Farm, Mr Bate impressed the audience with his robotics technology farming machinery, designed to create a new farming system using lightweight, autonomous robots.
Staybil presented their team's award-winning AI-powered software-as-a-service (SaaS) that allows organisations to reduce costs, time, workforce turnover and environmental impacts while simplifying their operations not complicating them.
Founder of Power Ledger, Gemma Green pitched the company's technology in helping to transact energy, trade investment commodities and invest in renewables.
The evening concluded with networking and teams showcasing their products and services to potential investors..
RiverPitch Live Sydney 10 final teams were Monarc Global, Squizify, Staybil, Conpago, Superdraft, Inndox, Benchvote, Power Led, Swarm Farm Robotics and Vapar.
RiverPitch is an investment series run by River City Labs that provides a platform for entrepreneurs to present their business opportunities to a group of registered investors in order to help raise capital for the company.
"RiverPitch aims to provide a different approach to capital funding and de-formalise the search for the next investment," Ms Ellis said.
"We are committed to fostering innovation, putting founders first and creating outcomes to ensure tech sector growth impacts our economy to produce world stage tech brands."
River City Labs was founded by television's Shark Tank judge, Steve Baxter, in 2012 and the not-for-profit organisation was bought by Australian technology professional association, ACS last year, in order to expand its national reach.
ACS Labs was formed, headed by serving RCL CEO Peta Ellis, and the RiverCity Labs method has since been extended to both Melbourne and Sydney as Bay City Labs and Harbour City Labs.
ends