RiverPitch goes live in Sydney to float funding for start-ups
AFTER A SERIES of successful RiverPitch events in Queensland – with up to 15 business start-ups and scale-ups participating at each event and pitching to an audience of over 100 – the renowned RiverPitch Live event will launch in Sydney on June 27 at the Sydney Startup Hub.
RiverPitch Live-Sydney 2019 will replicate its RiverPitch Brisbane Live event series, where screened start-ups and screened high-profile investors come together in a social evening where investor-ready projects can be pitched. The event will aim to foster both the start-up and investment community in Sydney, where investor-ready start-ups and teams are connected with experienced investors.
Last year RiverPitch Brisbane 2018 helped at least eight teams – over two RiverPitch Live Brisbane events – to secure funding to progress their businesses.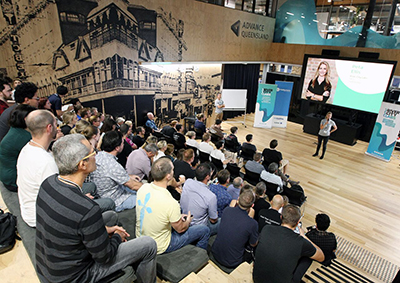 RiverPitch aims to provide a different approach to capital funding and de-formalise the search for the next important investment – and there have been 16 public events since 2012 run by the Labs Group, producing 61 alumni companies. About a third of those raised capital within a 12 month period after RiverPitch. In 2018 RiverPitch also produced an eight-part television series in partnership with the ACS, the Australian association for the ICT industries, and YourMoney, the now wound-down joint venture TV and digital channel of Nine Entertainment and News Corp's Australian News Channel.
City Labs Group CEO Peta Ellis said there were high expectations that the RiverPitch events which had been so successful in Brisbane would go to a whole new level in Sydney.
"The Sydney start-up scene is developing each year and events like RiverPitch will fast-track progress even further," Ms Ellis said. "With the recent launch of Harbour City Labs in Sydney (River City Labs' sister brand), it is a great time for us to introduce to the start-up scene in Sydney, our popular RiverPitch Live event that we launched seven years ago in Brisbane and continues to showcase start-ups raising capital.
"We are looking for start-ups and scale-ups who have a strong ambition to grow fast, and scaling and seeking investment to become nationally and globally relevant companies. RiverPitch Live Sydney 2019 will assist founders to connect and develop relationships with an elite high-profile community of investors that have had an ongoing and reputable tie with our organisation."
RiverPitch Live Sydney 2019 applications will close on May 19, 2019, at midnight.
"Part of the application process includes providing a 90-second video pitch highlighting what your product or service is and why you would like the opportunity to pitch at RiverPitch Live Sydney 2019," Ms Ellis said.
She said all submissions were carefully vetted by a committee of RiverPitch judges. The successful teams are then invited to pitch in front of a room full of investors on the June 27 at the Sydney Startup Hub.
Apply for RiverPitch Live Sydney 2019 at https://riverpitch.com
ends