River City Labs' Startup Invest event sees US$100k 'live' investment – and more
STARTUP HISTORY was made at the recent Startup Invest event in Brisbane when an international investor committed US$100,000 on-the-spot.
The US$100,000 offer was shouted out at the end of video-sharing platform Clipchamp CEO Alexander Dreiling's presentation, delighting Mr Dreiling and the enthusiastic audience alike.
The Startup Invest evening event combined the River City Labs (RCL) RiverPitch finals and the RCL Accelerator's Demo Day and was staged in collaboration with the Myriad technology and innovation festival at the Royal International Convention Centre, Brisbane.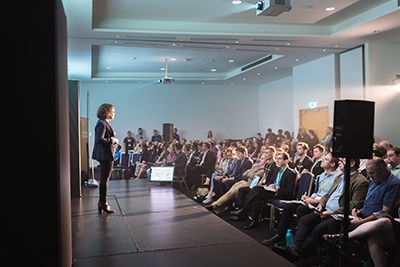 Clipchamp co-founder Mr Dreiling explained his browser-based video sharing platform – which crucially eliminates the need for uploading huge files and has gone from a user base of about 100,000 people to almost 4 million in less than two years – to a clearly impressed audience of 250, along with an even more impressed investor.
River City Labs CEO Peta Ellis said of the history-making moment that it demonstrated deals could be made anywhere at anytime at RiverPitch.
Furthermore, she said, one of the pitching teams had their current investors kick in an extra $250,000 to their funding round, followed by interest from one of Australia's Big Four banks and that generated follow-up meetings with another investment group in Sydney the following Monday.
"That's a positive testament that RiverPitch is a great way to get in front of many engaged investors in one place on one night," Ms Ellis said.
All six RiverPitch finalists delivered performances "of incredible calibre" she said, as they looked to secure crucial Series A funding from the group of high-powered national and international investors.
Ms Ellis said Brisbane's startup scene was developing each year and events like RiverPitch and Startup Invest were fast-tracking progress and fostering entrepreneurship across the board.
"Startups are growing, they're scaling and seeking investment to fast track expansion to become globally relevant companies," Ms Ellis said. "It shows a lot of maturity in the ecosystem that companies are raising Series A funds. It highlights the growth in Brisbane in particular."
River City Labs founder and Queensland Chief Entrepreneur, Steve Baxter said he admired entrepreneurs because they want to "change the world".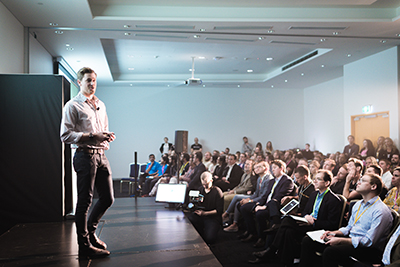 "Pitching in front of investors is really serious stuff," Mr Baxter said. "People who head off on the entrepreneurial journey risk personal bankruptcy to try and change the world and we need to respect that.
"They don't know if they're right or wrong – mostly they don't care and that's a lot of fun to be around. It's a bit like a fountain of youth," Mr Baxter said.
Mark Livings, investor and a founder at The Kinetic Agency, said Brisbane needed to host events like Startup Invest as much as possible, to develop the community as a viable alternative to the startup "juggernaut" in Sydney.
He said the things he looked for as an investor were a "potential to go to $100 million, scalability, and a great founder with lots of passion".
James Turner of Viberent, who pitched his SaaS cloud-based rental management platform, said afterwards that RiverPitch was a great opportunity for investment-ready startups to expose their opportunity and test themselves.
"It's important to be out of your comfort zone constantly because that's where you've got to be," Mr Turner said. "Whether it's nights like this, or a meeting that's touch-and-go, it's important to be constantly pushed outside where of you'd usually be."
As Clipchamp's Alexander Dreiling walked off the stage at the end of his RiverPitch, a few investors in the front rows reached forward to shake his hand. One of these was the US-based investor who confirmed Clipchamp US$100,000 offer on the spot.
All RiverPitch finalists found themselves engaged in rapid-fire conversations with investors after Startup Invest concluded.
RiverPitch 2018 was hosted by River City Labs and supported by McCullough Robertson and Morgans.
RiverPitch finalists digest
TalentVine: CEO Justin Falk presented the TalentVine platform as "a recruitment consultant aggregator that connects employers with bids from top-rated recruiters that are working on similar roles". TalentVine has 350 employers on its recruitment panel that taps into what is currently a passive market. The recruitment consultant aggregator boasts a 38 percent saving in business recruitment costs. The platform only takes commission on successful recruitments, which stand at more than 80 percent. "After all, the true cost of recruitment is a bad hire," Mr Falk said. On the night, TalentVine was seeking $130,000 in seed funding on its journey to give confidence back to the recruitment industry.
Paypa Plane: This fintech startup wants to "change the way we think about digital payments and how to make them secure," according to managing director Simone Joyce. Paypa Plane's digital payment management tools "significantly reduce missed/failed payment rates, administration and fees," founder Ms Joyce said. The platform uses a two-step 'Launch Code', which verifies details with a bank before confirming the customer is in control of the account. Ms Joyce said Paypa Plane operated in a $1.2 trillion-a-year and has more than 200 businesses utilising its services so far, with 11 percent growth year-on-year. Paypa Plane has already raised $770,000 and is seeking $1 million more.
Viberent: Chief operating officer James Turner described Viberent as a comprehensive cloud-based SaaS rental equipment management platform already used in 11 countries. Viberent streamlines the process to save money on administrative costs and sync with other business platforms such as Xero. The company already has $20,000 monthly recurring revenue. Viberent is seeking a $1.5 million raise within the next two years. "We know life's hard, let's at least simplify business," Mr Turner told the crowd.
Icosian: A 'business in a box' solution which streamlines workforce and appointment management processes in the aged care and disability sectors, Icosian is off to a flying start with 40 enterprise level customers, according to CEO Sam Robertson. "It's a $600 billion industry – in fact 16 percent of the US Budget is spent on this area, and only 1 percent more is spent on Defence," he said. In Australia, $40 billion a year is spent in this sector and Icosian estimates 36 percent of that is on administration. Icosian aims to reduce massive public and government spending on healthcare in Australia (such as within the NDIS and Medicare systems). Icosian links health service providers directly to customers and manages that relationship. Mr Robertson said Icosian is raising $3 million.
Canaria: This innovative technology company has produced an earpiece powered by machine learning to biometrically monitor the wearer to predict catastrophic medical events before they happen. Canaria CEO and head designer Alex Moss said Canaria was particularly relevant for construction and freight industries, where fatigue causes two-thirds of all accidents. Ms Moss said Canaria was tapping in to an immediate market of 170,000 industry employees and she described the market as a new scientific field of predictive medical devices which will have broad applications in the future. The devices are medical grade and non-invasive, and the company is currently performing a trial with Origin Energy.
Clipchamp: CEO and founder Alexander Dreiling said video sharing was becoming a more important part of organisational storytelling, and Clipchamp aims to capitalise on that market – at high speed – through its browser-based video sharing and editing platform. The key point of difference is that no file upload is required. "There are 100 million creators of video out there now and there are 50 million YouTube channels," Mr Dreiling said. Clipchamp already has more than 13 million users in over 100 countries. Users on the platform so far include surfing champion and surf lakes developer Kelly Slater and BHP. Clipchamp wants to "disrupt the disruptors" like Dropbox. Clipchamp is looking to raise $5 million in Series A funding.
ends